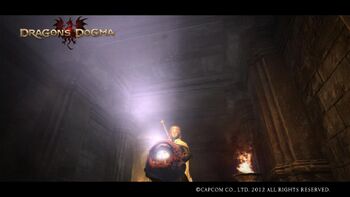 Vile Eye is an Enemy in Dragon's Dogma.
A smaller version of the Evil Eye, they look like a floating eyeball with no eyelids and no tentacles attached.
Overview
Type

Eye

Experience
gained
Base Experience of 550

Can be more or less depending on a few factors such as:

Location

Items

Quests
Attacks
| Attack | Type | Description |
| --- | --- | --- |
| Barrier | Spec | Erects a defensive shield to protect itself from all damage (can be broken with enough magick attacks). The Vile Eye cannot cast magick while the shield is maintained. |
| Charge | Phys | Snaps with its lids few times then charges forward while maintaining its barrier. |
| Dimensional Phase-Shift | Spec | Teleports to cover ground quickly. |
| Ocular Magick | Mag | The eye lowers its shield and casts spells such as Levin, Ingle, or Frigor. |
| Crippling Beam | Spec/Mag | The Vile Eye lowers its barrier and emits a Petrification beam. May also inflict blind, Torpor, Silence, Poison and Curse. |
| Petrifying Glare | Spec | If a Vile Eye is picked up and aimed at other foes, it will emit a beam that can be used to petrify them. |
| Evil Pulse | Mag/Status | The Eye pauses as it prepares a spell, signified by its eye glowing bright crimson. After a short incantation time, the spell will be released with a shockwave that can knockover, it will also remove Weapon enchantments and may inflict Skill Stifling. |
Pawn Bestiary Knowledge
For full information, refer to the Bestiary page.
Enemy specific:
Vulnerable to damage only when casting spells
Can be picked up when knocked down to the floor and used to petrify other enemies
Weak to Holy.
In addition to witnessing these techniques, it is necessary for Pawns to participate in killing 75 Vile Eyes either with their own Arisen or while travelling with others.
Pawn Chatter
"What could that round mass be?"
"Draw other beasts before the eye's glare!"
"Beware its gaze!" (Vile Eye using its gaze)
"Pierce the eye while it casts!"
"Its barrier is lowered while it intones a spell!"
Tactics
Offensive
Defensive
Trivia
Immolation can penetrate the eye's barrier and sets these creatures on fire.
The Vile Eye bears a strong resemblance to the Beholders of the Dungeons & Dragons role-playing game.
Gallery
Community content is available under
CC-BY-SA
unless otherwise noted.