A wee bit of background
I still recall the first time I played Dragon's Dogma. Shortly after being a bit disappointed with Mass Effect 3 's conclusion, on a whim I happened to logon & download a demo from XBOX live. I had no expectations but was blown away completely. From that short battle with the Griffin to the in-depth character customization (I love a game that allows the player many customizable options) Dragon's Dogma immediately became one of my favorite games. I'm a video game addict. I play many games and rarely finish them due to losing interest and moving on to something else. Dragon's Dogma is one of a handful of games that I've played-through numerous times. And whats not to love? Dragons. Massive Enemies you can climb. Swords & Magic. Options Galore and you play the game your way!
My love for this game has even extended outside the game to this wiki. I figured I may as well share what I can during my time spent in the world of Dragon's Dogma. This wiki has helped me so I hope to give a little back when and where I can here and there...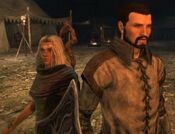 My favorite pages
Any and all Surcoats Torso Pieces
Community content is available under
CC-BY-SA
unless otherwise noted.