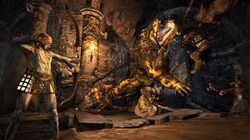 Sulfur Saurian is an Enemy in Dragon's Dogma.
Overview
Sulfur Saurians are a subspecies of the spear wielding Saurian with dark green and yellow striped skin. They are almost always cloaked, even within close proximity. Their spit can cause torpor.
Like regular Saurians, their defense sharply decreases once the tail is cut off, which also disables their cloaking ability. Unlike common Saurians they are also susceptible to fire, whilst being relatively resistant to ice; also unlike their lesser cousins they are immune to Torpor, and vulnerable to Poison.
Type

Saurians

Experience
gained
Base Experience of 740

Can be more or less depending on a few factors such as:

Location

Items

If the tail is cut:

Quests
Attacks
| Attack | Type | Description |
| --- | --- | --- |
| Spear Slash | Phys | Slashes its spear at a target in front of it. |
| Tail Whip | Phys | Whacks targets attacking its tail. Causes knock back. |
| Spit | Mag/Status | Spits a glob of green goo at a target. May cause Torpor and Drenched. |
| Jumping Attack | Phys | Jumps at a target out of water or other hiding places and lands on them. |
| Jumping Spear | Phys | Leaps at a target and stabs them with the spear. Knocks the target away and down. |
| Hit and Run Bite | Phys | When its tail is removed, it will slither up to a target and bite them in the legs, and then run away. |
| Cloak | Spec | Sulfur Saurians are always cloaked, whether for ambush or regular attacks. Cutting the tail disables this ability. |
| Guard | Spec | Holds up its spear in a defensive stance and blocks all frontal and side attacks. The Tail is not protected, and the guard may be broken by strong attacks. |
| Counter Attack | Phys | If guard is not broken when attacking, it will retaliate with a spear attack that knocks its target down. |
Pawn Bestiary Knowledge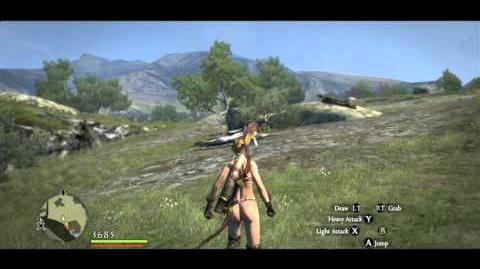 For full information, refer to the Bestiary page or the according section on the Saurian page. Enemy specific :
In addition to witnessing these techniques, it is necessary for Pawns to participate in killing 150 Sulfur Saurians either with their own Arisen or while travelling with others.
Pawn Chatter
"Sulfur Saurian!"
"A sulfur saurian comes!"
"Striped saurians are fast and fierce both."
"That slime hobbles its victim's movement!"
"I'll have its tail off in a trice!"
"Hold it -- I'll do the rest!"
"It aims to hide itself, then attack!"
Community content is available under
CC-BY-SA
unless otherwise noted.