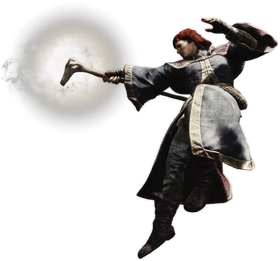 Magick rods capable of ampfliying the user's Magick abilities. Staves are wielded by Mages, Magick Archers, and Mystic Knights. Staves can be used in melee to bludgeon enemies when using Magick Billow and thus are also capable of dealing Blunt Damage.
Staff Skills include the Core Skills Levitate, Focused Bolt, and Magick Agent, and stamina consuming spells that include healing and curative magick as well as spells that debilitate, elemental enchants (see Weapon enchantment), and offensive spells.
The offensive and enchanting spells are common to Sorcerers.
Stats listed as dragonforged
↑ Minimum character level required for use without stamina penalty.