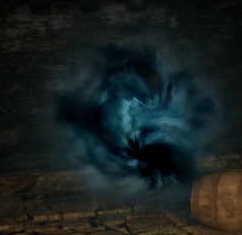 Specter is a ghostly enemy in Dragon's Dogma.
Overview
Specters are dangerous dark cyan colored Ghosts feared by all Pawns for their deadly possession attack. They have relatively high health and strong magick resistance, but they are still vulnerable to Holy magick. They are invulnerable to physical attacks, except when they're clinging to a target.
Unlike other ghosts, Spectres target only pawns, and will not possess the Arisen.
§ Except when possessing a victim
Attacks
| Attack | Type | Description |
| --- | --- | --- |
| Possession | Spec | With spectral arms outstreched, the spectre follows a pawn, and will attempts to possess them. After several seconds if not dislodged the Specter will depart - if the pawn lacked possession resistance it will certainly be possessed. |
| Floating Charge | Spec | Rushes through a target. Likely to cause stagger as well as causing the invigoration Strength Boosted. |
| Ghostly Discharge | Spec | Starts pulsating, increases in size and eventually discharges, causing damage, stagger as well as causing the invigoration Strength Boosted to anyone near it. |
| Disperse | Spec | The Specter disperses briefly, with a small discharge that may stagger or cause Strength Boosted. |
Tactics
Immune to all debilitations.
Vulnerable to magick attacks, and all holy based attacks.
Vulnerable to physical attacks when they possess a target.
Physically attacking them often results in their disappearance and becoming temporarily intangible. They will reappear after a few seconds in the exact spot they were struck.
Melee attacks are ineffective - unenchanted weapons may inflict a very small amount of damage, less than 10hp
Resistant to Great Sacrifice if directly hit.
Spectres only target pawns, so the Arisen need no worry at all about becoming possessed.
Pawn Bestiary Knowledge
For full information, refer to the Bestiary page or the according section on the Phantom page.
Enemy specific :
The scroll Ghost Tactics Vol. 1 will grant knowledge for this enemy.
In addition to witnessing these techniques, it is necessary for Pawns to participate in killing 50 Specters either with their own Arisen or while travelling with others.
Pawn chatter
"A plague of Specters!"
"Give a call if you're possessed!"
"All consciousness ends once it takes hold."
" 'Tis nemesis to all pawns!"
"Captured pawns lose themselves!"
"Don't allow it to possess you!"
"If it takes hold of a pawn, 'tis death!"
"'Tis a soul most evil floats there."
Notes
Impervious prevents possession, but not the possession attack - pawns with this Invigoration will be held by Spectres until the effect wears off (or they are rescued), after which they will likely be possessed if they don't wear gear with high enough possession resistance.
Other ghost creatures
Community content is available under
CC-BY-SA
unless otherwise noted.