Sovereign's Mantle is a cloak available in Dragon's Dogma: Dark Arisen.
Description
"A splendid cloak that accentuates a lord's majesty but maintains an intimidating edge. This fine garment can make any wearer look like a king."
Usable By
Stats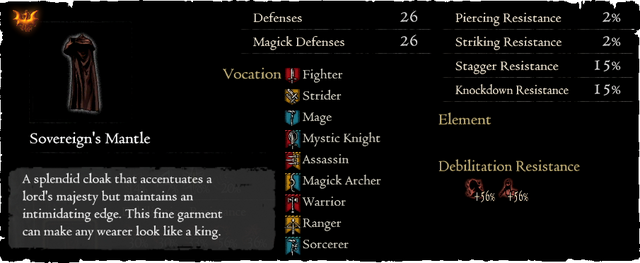 Location
Enhancement Item Locations
Notes
The base add to Strength is an additional +10, which can be increased if strength-multiplying augments are equipped on the character, such as Clout, Vehemence, Bloodlust, Ferocity, Exhilaration, Opportunism and/or Autonomy. Note that some of these augment effects are conditional depending on the Arisen's environment and state of health or even the selected skill.
Community content is available under
CC-BY-SA
unless otherwise noted.