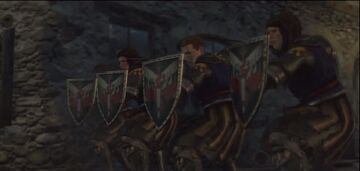 Soldiers are professional armed men, usually loyal to or employed by Duke Edmun.
Overview
Human soldiers function as guards in Gransys. They are found in Gran Soren, The Encampment, other forts, on well used roads, at Rest camps and elsewhere.
The common soldier has no heraldic device of their own, and typically wears the arms and colors of Gran Soren and the Duke - that is blue, with a badge of a red dragon entwined on a sword, set on on a blue ground, with white diagonal cross (as on a Gran Soren Shield). Soldiers at Windbluff Tower and at The Greatwall carry a badge of a red chimera on a blue background (as on the shield Mark of the Chimera).
Some higher ranking soldiers have their own or more distinctive liveries - see Knights.
Generally, soldiers are allies unless attacked - when on the road, they will engage bandits, wolves and other enemies of their own accord. However, if a crime, such as attacking another person, is committed in Gran Soren, soldiers become tasked with throwing that person into the Dungeon.
Most soldiers are of the fighter vocation, though some carry bows, and a few specialists carry a longsword (Ser Berne) or may even have the skills of a Mystic Knight (such as some found in The Blighted Manse). When killed, a soldier generally drops Coin Pouches (100 to 1,000 Gold), a Flask of Oil, an Interventive potion, or a Royal Banner. These items can also be stolen from them using Master Thief.
General information
Soldiers typically have base Experience Points of 150 to 250, those within Gran Soren are significantly stronger, and may give as much as 700 experience.
The soldiers found in the Noble Quarter and Duke's Demesne during the Post-Game quest A Warm Welcome are noticeably weaker than normal guards, and give less experience.
Post-Game
"And now again, the choice is yours, Arisen."


This article provides information and/or facts that contain spoilers.
Please read with caution or refrain from proceeding further.
During the Post-Game quest A Warm Welcome, soldiers in Gran Soren become hostile on order of the duke, and will pursue the Arisen - either to the Everfall, or until the Arisen leaves the city - other soldiers elsewhere are not affected.
Pawn Bestiary Knowledge
Hostile Gran Soren Soldiers, The Blighted Manse guards and Royal Guards patrolling in Gransys fall under the "Enemy Person" category from the Pawn Bestiary Knowledge, whereas the "Hostile Soldier" category refers to Bandits.
For full information, refer to the Bestiary page.
Enemy specific for Enemy Person:
Block an attack with a shield (may need to be performed by the Arisen)
In addition to witnessing these techniques, it is necessary for Pawns to participate in killing 100 - 300 Soldiers either with their own Arisen or while travelling with others.
Notes
An exploit exists for Discipline Points farming during the Post-Game - see Exploits.
If they become aggressive, they will only attack the Arisen and not the Pawns.
Pawns will refer to them as "Armed Rogues!" when they chase after the Arisen.
Community content is available under
CC-BY-SA
unless otherwise noted.