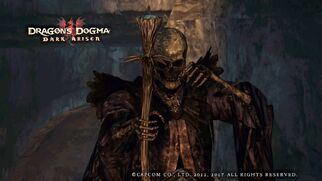 Skeleton Sorcerer is an Enemy in Dragon's Dogma.
Overview
Skeleton Sorcerers are more dangerous and durable versions of Skeleton Mages. They cast powerful elemental spells as well as an unholy form of Anodyne with a red sigil that heals the Undead. Skeleton Sorcerers are vulnerable to melee strikes, with blunt weapons doing extra damage.
They wear a decayed version of the Wizard's Set (some of its original colors can still be discerned) and carry a version of the Favored Flower staff.
Stats
Attacks
| Attack | Type | Description |
| --- | --- | --- |
| Staff Whack | Phys | Hits its target with its staff at close range. |
| Unholy Anodyne | Mag/Status | Casts a red field of healing magick for its undead allies as an unholy form of Anodyne. |
| Levin | Mag/Status | Smites its enemies with tongues of lightning from above at a designated location. |
| High Frazil blast | Mag/Status | Conjures and releases the icy blast associated with the Frazil spell. Can cause Frozen. |
| Lassitude | Mag/Status | Casts a magickal fog at a designated location that inflicts Torpor upon foes that enter. |
Tactics
Weak to Holy.
Weak against Blunt Damage from maces and warhammers.
Inflicting Silence prevents them from casting spells.
Pawn Bestiary Knowledge
For full information, refer to the Bestiary page or the according section on the Skeleton page.
Enemy specific:
In addition to witnessing these techniques, it is necessary for Pawns to participate in killing 100 Skeleton Sorcerers either with their own Arisen or while travelling with others.
Gallery
Community content is available under
CC-BY-SA
unless otherwise noted.