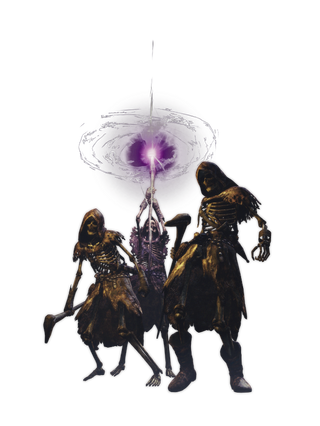 Skeleton Mage is an Enemy in Dragon's Dogma.
Overview
Skeleton Mages make use of four of the five Archmagicks; they do not have access to Holy Magicks. They are oft seen in a decayed version of the Hide Armor, with a hooded version of the Mahogany Cape, carrying a Wooden Staff. What else they once wore as men has long since rotted away.
Type

Skeleton

Experience
gained
Base Experience of 280

Can be more or less depending on a few factors such as:

Location

Items

Quests
Stats
Health
Attack
Defense
Magick
Attack
Magick
Defense
Weight
1700
50
120
400
120
60
Relative
Damage
Taken
Slash
Bash

Fire

Ice

Thunder

Holy

Dark
60%
150%
75%
50%
50%
200%
30%
Sources: Dragon's Dogma - ドラゴンズドグマ & Dark Arisen (www10.atwiki.jp), the 'Dragon's Dogma Signature Series Guide' and in-game testing.
Attacks
| Attack | Type | Description |
| --- | --- | --- |
| Magick Billow | Phys | Hits the target with its staff at close range. |
| Ingle | Mag/Status | Casts a fireball that explodes on contact. May cause Burning. |
| Levin | Mag/Status | Smites the target from above with a tongue of lightning. |
| Frazil blast | Mag/Status | Conjures and releases the icy blast associated with the Frazil spell. Can cause being Frozen. |
| Miasma | Mag/Status | Conjures the toxic cloud of the spell Miasma. Can Poison those lingering too long in it.  |
| Silentium | Mag/Status | Casts a field that may inflict Silence on those caught inside for too long. |
| Back Dash | Spec | Does a small back dash to avoid attacks. |
Tactics
Pawn Bestiary Knowledge
For full information, refer to the Bestiary page or the according section on the Skeleton page. Enemy specific :
In addition to witnessing these techniques, it is necessary for Pawns to participate in killing 100 Skeleton Mages either with their own Arisen or while travelling with others.

"Skeletons are made from the bones of men, given false life by some evil power, but among their numbers are the remains of former magick users. These are the skeleton magi.

Just as regular skeletons, their heights typically reach between five and six feet. Most drape around their bones rotting robes and clutch crumbling wands—relics, perhaps, of their former lives.

They act in accordance to the orders they are given by their summoners, just as regular skeletons do, and never move of their own volition. However, while they have forgotten their own selves, their powers remain intact and they are able to employ a number of magicks..

Any creature identified as an enemy will be bombarded with these magicks and skeleton magi can even use auxiliary magicks upon their fellows to improve their standing in battle. Still, they do not act as a group commanded by any leader and such support is only given out of the instinctual drive to follow their given orders."
―Capcom official description[1]
Pawn CHatter
"Skeleton mage!"
"There, Master! Skeleton magi!"
"If we kill it now, we needn't spill a drop of our own blood."
"Clubs and maces are a skeleton's bane!"
"A monster stalks the passage ahead."
"Move, afore its spell hits!"
"Stop its incantation!"
"We musn't allow that spell to be cast!"
"They rampage indiscriminately!"
"Maintain a careful distance!"
"We must stay calm! One at a time..."
See also
Gallery
References
↑ Skeleton Mage www.dragonsdogma.com
Community content is available under
CC-BY-SA
unless otherwise noted.