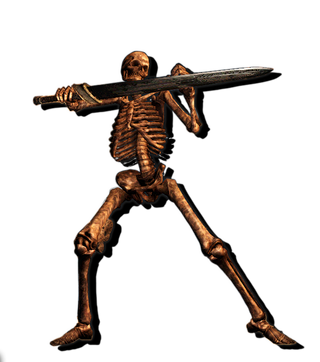 Skeleton Brute is an Enemy in Dragon's Dogma: Dark Arisen.
Overview
Skeleton Brutes are giant versions of Skeletons, roughly the size of an Ogre, found on Bitterblack Isle.
They carry a large sword and sometimes appear together with a pack of other, human sized Skeletons. They use Fighter skills like Burst Strike, Tusk Toss and Compass Slash.
Stats
Stats
Health
Attack
Defense
Magick
Attack
Magick
Defense
Weight
11,000
1,900
380
200
450
 ??
Relative
Damage
Taken
Slash
Bash

Fire

Ice

Thunder

Holy

Dark
50%
120%
50%
30%
30%
100%
20%
Sources: Dragon's Dogma - ドラゴンズドグマ & Dark Arisen (www10.atwiki.jp) and in-game testing.
Tactics
Can be climbed - allowing attacks on the brute from a relatively safe position.
Explosive Barrels can do a lot of damage.
Pawn Bestiary Knowledge
For full information, refer to the Bestiary page or the according section on the Skeleton page. Enemy Specific :
In addition to witnessing these techniques, it is necessary for Pawns to participate in killing 300 Skeleton Brutes either with their own Arisen or while travelling with others.
Pawn chatter
"Can those truly be human bones?"
"Arms at ready! Skeleton brute!"
"Scale it, and have at the head!"
"A drudge of skeleton brutes!"
Gallery
External Links
Community content is available under
CC-BY-SA
unless otherwise noted.