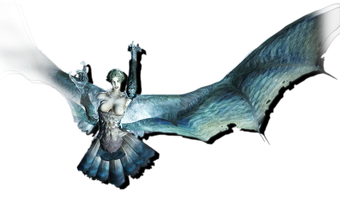 Siren is an Enemy in Dragon's Dogma: Dark Arisen.
Overview
Sirens are a Harpy species found on Bitterblack Isle. They look like an ice-blue/white version of Succubi. The Siren's song can heal their allies, making them a troublesome asset to the larger monsters they often can be found with.
Type

Harpy species

Experience
gained
Base Experience of 2100

Can be more or less depending on a few factors such as:

Location

Items
Stats
Stats
Health
Attack
Defense
Magick
Attack
Magick
Defense
Weight
8500
950
290
850
650
20
Relative
Damage
Taken
Slash
Bash

Fire

Ice

Thunder

Holy

Dark
100%
100%
60%
60%
60%
10%
200%
Sources: Dragon's Dogma - ドラゴンズドグマ & Dark Arisen (www10.atwiki.jp) and in-game testing.
Attacks
| Attack | Type | Description |
| --- | --- | --- |
| Dive Attack | Phys | Quickly dives at a target and slashes them with its talons. May cause Stagger or Knockdown. |
| Sing | Status | Starts singing with a voice that heals its allies; other Sirens often join in to make this process faster. |
| Staggering Breath | Spec | Breathes in short range a wind buffet at a target which can cause Stagger. |
| Knock Off | Phys/Spec | When grabbing onto a flying Siren, it will knock the passenger off after some time, dropping them to the ground. Fall damage from a sufficient height will be fatal. |
Tactics
General tactics against Siren are the same as for their Harpy cousins.
Pawn Bestiary Knowledge
For full information, refer to the Bestiary page or the according section on the Harpy page.
Enemy specific:
Weak to Dark
Get them down and grab them
In addition to witnessing these techniques, it is necessary for Pawns to participate in killing 100 Sirens either with their own Arisen or while travelling with others.
Pawn Chatter
"A blue harpy...?"
"That harpy wears scales!" (no Bestiary knowledge)
"I hear song..."
"As it nears the ground, attack it directly."
Gallery
External Links
Community content is available under
CC-BY-SA
unless otherwise noted.