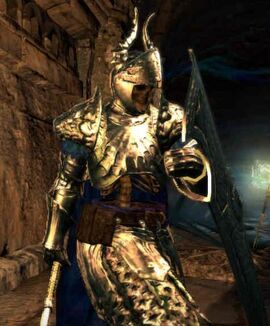 Silver Knights are Enemies in Dragon's Dogma: Dark Arisen. They often appear with Golden Knights - they fight together as the Golden and Silver Knights.
Overview
Silver Knights wear silver armor in the style of the Chimeric Armor Set, together with cloaks styled on the Hellfire or Blasphemer's Cloak. The Silver Knight is a Mystic Knight brandishing a Steel Beak as a weapon and an Angel's Sanctum as its magick shield.
Stats
Stats
Health
Attack
Defense
Magick
Attack
Magick
Defense
Weight
23,000
850
650
900
700
 ??
Relative
Damage
Taken
Slash
Bash

Fire

Ice

Thunder

Holy

Dark
80%
125%
150%
20%
75%
110%
100%
Sources: Dragon's Dogma - ドラゴンズドグマ & Dark Arisen (www10.atwiki.jp) and in-game testing.
Attacks
| Attack | Type | Description |
| --- | --- | --- |
| Resurrection | Spec | One Knight rushes to the aid of the other Knight, reviving it for further battle. |
| High Lassitude | Mag/Status | Calls forth a large fog that inflicts Torpor upon foes who enter. |
| Unholy Anodyne | Mag/Spec | Casts a field of red energy that heals its allies just like Anodyne. |
| Unholy Wall | Mag/Spec | Focuses dark power to form a broad magickal shield in front of it that blocks all frontal attacks and some side attacks. Prevents its guard from breaking. Much like Holy Wall. |
Tactics
Pawn Bestiary Knowledge
For full information, refer to the Bestiary page or the according section on the Skeleton page.
Enemy specific:
Witness resurrecting a Golden Knight (usually 5 to 10 times)
Break the Silver Knight's block by attacking from behind
Weak to Fire
Grapple them
In addition to witnessing these techniques, it is necessary for Pawns to participate in killing 100 Silver Knights either with their own Arisen or while travelling with others.
Pawn Chatter
"A knight in silver, Arisen!
"Is there some way to break the silver one's guard?"
"The silver knight is restored!"
"The silver knight boasts near-perfect defense!"
Notes
Pre-Daimon appears in tandem with Golden Knight, Post-Daimon configurations vary.
In each party configuration they can resurrect one another just like with an Arisen and Pawns party.
They will drop items only after their whole party (i.e. any Golden and/or Silver Knight in the vicinity) is defeated.
External Links
Community content is available under
CC-BY-SA
unless otherwise noted.