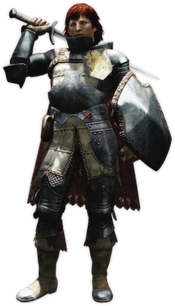 Primarily defensive secondary weapons exclusively for Fighters and Assassins that can also be used for offense or support. Shields are strong enough to absorb blows that would be otherwise fatal to the user, but light and small enough to not restrict mobility. They are also used offensively to bash the opponent and thus deal Blunt Damage. Perfect Blocks further enhance a shield's utility.
Shield Skills include defensive boosts, offensive strikes, support moves, and some special skills that guard whilst attacking with the primary weapon. The augments - Adamance, Periphery, and Prescience all improve all shield blocking in various ways.
Each shield has a hidden stat "shield stability" which governs its ability to resist heavy blows.
Stats listed as dragonforged
↑ Minimum character level required for use without stamina penalty.
Notes