Seabirds
are naturally occurring
Fauna
in
Dragon's Dogma
.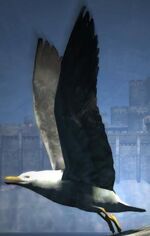 Description
Associated with fish and water, these web-footed birds can be found at various beaches throughout Gransys, most notably the Unusual Beach and the beaches of Cassardis. They are also found roosting in high places such as the upper area of The Bluemoon Tower, and on the elevated path to the Duchess's Bedchamber and elsewhere outside in the Duke's Demesne.
Notes
Those that witness the Arisen killing birds will have less Affinity for them.†
Birds will generally fly off when approached, and so are difficult to kill by melee only vocations - skills such as Burst Strike may help, and the Dark Arisen third tier skill Blitz Strike can more reliably catch them afore they fly off.

E

R

R

O

R

!

!!

It is possible to blind and put to sleep gulls without killing them - however they are unaffected by these debilitations and can still fly. e.g. "Flying Sleeping Blinded Seagulls (www.reddit.com)
Sources
Gallery
Community content is available under
CC-BY-SA
unless otherwise noted.