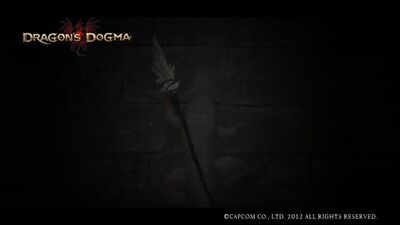 Saurian Sage is an Enemy in Dragon's Dogma.
Overview
Saurian Sages (also known as Snowy Saurians) are white Saurians with the ability to cast holy magick. They use a spear for physical attacks and to incant spells.
They are fond of the cloak and counter tactics Sulfur Saurians employ, and often use their white scales to camouflage themselves into the terrain around them. Like other Saurians they rest attached to walls, dropping from above in ambush if approached.
Saurian Sages are considerably more durable than their lesser brethren, and have a great stagger resistance even when casting spells. They are weak to Dark based attacks and resistant to Holy.
Attacks
| Attack | Type | Description |
| --- | --- | --- |
| Spear Slash | Phys | Slashes its spear at a target in front of it. |
| Tail Whip | Phys | Whacks targets attacking its tail. Causes knock back. |
| Spit | Mag/Status | Spits a blob of saliva at a target. Causes instant drenching. |
| Jumping Attack | Phys | Jumps at a target and lands on them. |
| Jumping Spear | Phys | Leaps at a target and stabs them with the spear. Knocks the target away and down. |
| Hit and Run Bite | Phys | When its tail is removed, it will slither up to a target, bite them in the legs and then run away. |
| Charge | Phys | When its tail is removed, it will aggressively charge at and headbutt a target, lifting them into the air, causing Knockdown. If it misses its target, it will keep charging, covering some distance. |
| Cloak | Spec | Saurian Sages are able to cloak for ambush attacks or regular attacks and are always cloaked when on the ground. They will however lift the cloak to cast spells. |
| Guard | Spec | Holds up its spear in a defensive stance that blocks all frontal and side attacks. The tail is not protected if flanked, and its guard may be broken by strong attacks. |
| Counter Attack | Phys | If its guard is not broken when attacking, it will retaliate with a spear attack that knocks down. |
| Guard Break | Phys | Does a strong kick that breaks targets' guards and knocks them down when hit. |
| Anodyne | Mag/Spec | Heals itself with this spell. Can also heal other enemies nearby. |
| Spellscreen | Mag/Spec | Casts a spell that increases the Defenses and Magick Defenses of the Saurian and other enemies within its spell's range. |
Tactics
Cutting the tail prevents the Snowy Saurian from casting spells, as it will drop its spear. Unlike other Saurians it then will not flee, but instead become more aggressive, and its attack strength increases.[1]
Strong against Holy enchanted weapons and spells.
Weak against Dark enchanted weapons and spells
Vulnerable to Silence.
Can be Petrified.
Pawn Bestiary Knowledge
For full information, refer to Bestiary or the according section on the Saurian page. Enemy specific:
Saurian Strategy Vol. 2 - Vulnerable to Silence.
Weak to Dark (Pawn quote: "Darkness works well.")
May be necessary to slay the Saurian Sage who casts Anodyne on its allies first (Pawn quote: "Slay the healer first.")
Witness and get hit by the spit attack
In addition to witnessing these techniques, it is necessary for Pawns to participate in killing 100 Saurian Sages either with their own Arisen or while travelling with others.
Pawn Chatter
"Waugh! It spews some white sickness!"
"They're no threat to us silent"
"It recovers Health through magick!"
"They block all frontal assaults."
"Such advanced magicks!"
Gallery
Sources
↑ "Lizardman sage", www10.atwiki.jp (Japanese Wiki page)
Community content is available under
CC-BY-SA
unless otherwise noted.