Sapfire Daggers is a weapon available in Dragon's Dogma: Dark Arisen.
Description
"Daggers infused with magickal properties for use in some arcane ritual. The searing heat of their fire enchantment lowers victims' Defenses."
Fire enchanted daggers that can also inflict Lowered Defense.
Usable By
Stats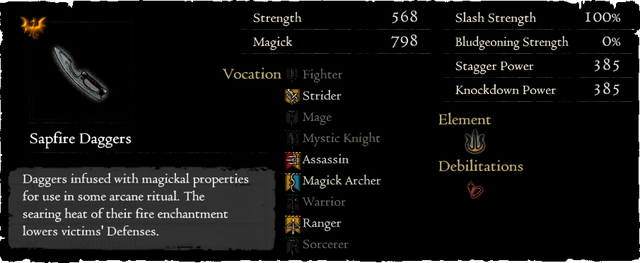 Location
Enhancement Item Locations
Notes
Have a Weapon Level Requirement of 46.
These daggers are the only weapons capable of inflicting Lowered Defense. The debilitating power increases as the daggers are enhanced.
These have the highest damage available from elemental damage-inflicting daggers. However, they have less knockdown/stagger than other daggers, which may be of consideration when choosing weapons.
Community content is available under
CC-BY-SA
unless otherwise noted.