Saint George Mask is armor available in Dragon's Dogma.
Description
"A mask named for a hero from beyond the rift. Wearing it bestows the user with holy protection."
Usable By
Stats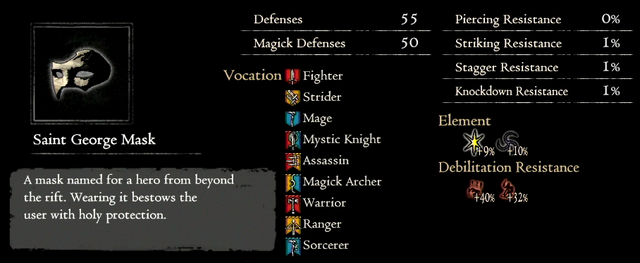 Location
Random reward for only those who obtain a kill on the online Ur-Dragon. The Online Ur-Dragon will bestow one of the four masks as part of a kill reward.
Enhancement Item Locations
Trivia
Dating back to the 11th century, the legend of Saint George and the dragon (the "Golden Legend") retells the story of a dragon which harried the Libyan town of Silene. To appease the dragon the townsfolk fed it two sheep every day, and eventually two of the town's children daily (chosen by lottery) when all the sheep were depleted. As a witness to their misfortune, Saint George offered to slay the dragon if the townsfolk would convert to Christianity. Upon obtaining their consent Saint George slew the dragon with the sword Ascalon, and the dragon's carcass was carried out of Silene on four ox carts (sound familiar ?).
In the Dragon's Dogma Official Design Works this mask of the four was assigned not to St. George but to the russian dragonslaying hero Dobrynya Nikitich, who slew the dragon Zmey Gorynych.
Gallery
Community content is available under
CC-BY-SA
unless otherwise noted.