Red Over-Knee Boots is armor available in Dragon's Dogma.
Description
"Long boots fashioned from especially hardened red leather."
Usable By
Stats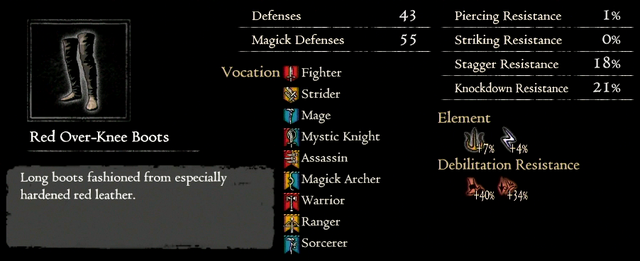 Location
Sold by
May be found in a chest in The Blighted Manse sewers.
A chest on the 2nd floor of The Greatwall during the quest Deny Salvation that is close to the ending. Take 1st right after fighting the Cyclops and enter the castle, take next left, go through the iron gate on the far right corner of the room, go up the spiraling stairs, it will be in the second chest to the left.
The chest at the top of The Ruins of Heavenspeak Fort (keep going up the stairs to the broken stairs then jump and climb on the wall and walk it to the platform with the chest and the highest point of the Fort).
Enhancement Item Locations
Community content is available under
CC-BY-SA
unless otherwise noted.