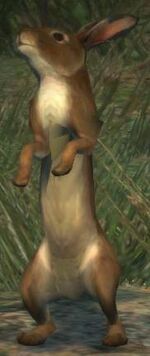 Rabbits are naturally occurring Fauna in Dragon's Dogma.
Description
Rabbits are harmless medium-sized mammals that roam roads, plains and woods.
Generally timid, rabbits will run away if the Arisen comes near.
Notes
Grabbing and throwing a rabbit will instantly kill it.
They often drop 100 Rift Crystals when slain by a character with the Fortune augment equipped.
Use of the Repeller Bow shows that a rabbit has 1 hit point of health.
Gallery
Community content is available under
CC-BY-SA
unless otherwise noted.