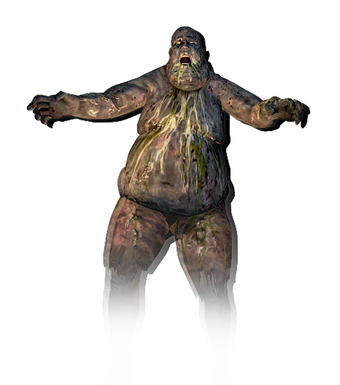 Poisoned Undead is an Enemy in Dragon's Dogma: Dark Arisen.
Overview
Poisoned Undead are much larger and darker skinned versions of Stout Undead. These lumbering zombies are nearly the size of Ogres. They've been bloated with venom and radiate a deadly poison around them. They vomit poison as a main source of attack, and emit a small cloud of poison when they die.
Stats
Stats
Health
Attack
Defense
Magick
Attack
Magick
Defense
Weight
55000
1450
370
400
440
 ??
Relative
Damage
Taken
Slash
Bash

Fire

Ice

Thunder

Holy

Dark
60%
40%
200%
100%
100%
200%
30%
Sources: Dragon's Dogma - ドラゴンズドグマ & Dark Arisen (www10.atwiki.jp) and in-game testing.
Attacks
| Attack | Type | Description |
| --- | --- | --- |
| Grab | Phys | Grabs a nearby target and bites them. Wiggle the L-stick to break free. Multiple Undead can join in on this attack to increase the damage dealt. |
| Flail | Phys | Wildly swings its arms about. |
| Crawl | Phys | Swings its arms at foes while crawling on the ground. |
| Charge | Phys | Charges towards foes, knocking them off their feet. |
| Emission | Status | Emits putrefying gases all over its body. May inflict Defenses Lowered to climbers. |
| Bile Vomit | Status | Vomits poisonous bile, inflicting Poison. |
| Last Breath | Phys/Spec | Upon death, the Poisoned Undead will let out a final poisonous mist dealing damage and may inflict Poison. |
Tactics
Prepare to be poisoned by the vomit attack and bring curatives, or employ a mage with suitable healing spells.
Intervention protects from all debilitations inflicted by this enemy.
Like all Undead it is highly susceptible to Fall Damage.

Can be lured near a ledge and knocked off with a high knockback attack like Mighty Bend.
Also doable by knocking it up with Fearful Din in areas with high enough ceiling.
Pawn Bestiary Knowledge
For full information, refer to the Bestiary page or the according section on the Undead page. Enemy specific :
In addition to witnessing these techniques, it is necessary for Pawns to participate in killing 300 Poisoned Undead either with their own Arisen or while travelling with others.
Pawn Chatter
"Augh, the air goes rank!"
"Poisoned undead come!"
"A horde of poisoned undead!"
"They've the toughness to match their size..."
"Let's see how it likes flame!"
"Their poison saps the strength from its victims!"
"Their poison makes close combat foolhardy!"
"They've the toughness to match their size..."
Gallery
External Links
Community content is available under
CC-BY-SA
unless otherwise noted.