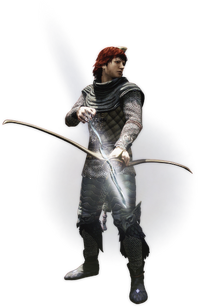 Weapons for ranged attacks exclusive to the Magick Archer that fire magickal homing arrows. They deal entirely Magick damage with no physical component.
Magick Bow Skills include both powerful offensive and support spells.
Stats listed as Dragonforged.
Weapon Level Requirement (Lvl. Req.) is the minimum Character Level needed for use without stamina penalty.
Notes
Because they identify targets within the bow range, Magick Bows can be used in almost complete darkness to detect hidden enemies.
The spellbow's inherent element (or lack thereof) can be temporarily overwritten by an elemental buff from a pawn; this buff will only affect the single-fire bolt. Skill-generated bolts are unaffected by elemental buffs.
The bolts fired by Magick Bows home in on enemies. The core skill True Seeker improves its homing ability.
It is still possible to hit some enemies which seem to be outside the magickal bow range by targeting them normally (as you would a short or long bow). The Ranger augment Trajectory also works with Magick Bows, though targeting is not improved.
The augment Conservation has no effect on the use of a Magick Bow.
Community content is available under
CC-BY-SA
unless otherwise noted.