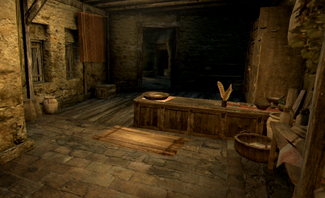 Madeleine is a travelling Vendor who sets up shop in the Abandoned House in the Venery, Gran Soren.
Overview
This article describes her shop stock both as a settled and travelling saleswoman.
For an itinerary of her possible locations, see Madeleine.
Items listed as becoming available via an idol refer to those added to Madeleine's stock after presenting her with a Bronze Idol, Silver Idol or Gold Idol as part of the Supplier's Demand quest.
Loot
A Gather spot at the back of the shop may yield the scroll Cyclops Tactics.
Stock
| Curative | Stock | Price | Availability |
| --- | --- | --- | --- |
| Desiccated Herbs | 3 | 270 G | Bronze Idol or better |
| Stone-Moss Poultice | 2 | 1,400 G | Silver Idol or better |
| Foreign Medicament | 1 | 4,600 G | Gold Idol |
| Pickled Mushrooms | 3 | 800 G | Bronze Idol or better |
| Backfat Oil | 2 | 900 G | Silver Idol or better |
| Staminal Drench | 1 | 1,300 G | Gold Idol |
| Balmy Perfume | 2 | 3,750 G | Silver Idol or better |
| Balmy Incense | 1 | 8,250 G | Gold Idol |
| Rousing Perfume | 2 | 3,250 G | Silver Idol or better |
| Rousing Incense | 1 | 7,750 G | Gold Idol |
| Dose of Strength | 15 | 150 G | Stage 1 |
| Dose of Courage | 15 | 100 G | Stage 2 |
| Warlock's Draught | 12 | 150 G | Stage 2 |
| Warlock's Incense | 10 | 1,500 G | Stage 3 |
| Cleric's Draught | 12 | 100 G | Stage 2 |
| Cleric's Incense | 10 | 1,000 G | Stage 3 |
| Panacea | 2 | 2,500 G | Stage 4 |
| Dagger | Stock | Price | Availability |
| --- | --- | --- | --- |
| Throatcutters | 1 | 2,520 G | Stage 1 |
| Stilettos | 2 | 11,600 G | Stage 2 |
| Scalding Razors | 1 | 22,300 G | Stage 3 |
| Snagdaggers | 1 | 46,800 G | Stage 4 |
| Vouge Daggers | 1 | 59,400 G | Stage 5 |
| Crimson Teeth | 1 | 72,800 G | Silver Idol or better |
| Bardiche Daggers | 1 | 91,700 G | Stage 6 |
| Galvanic Razors | 1 | 183,600 G | Gold Idol |
| Kunai | 1 | 156,000 G | Gold Idol |
| Chilling Razors | 1 | 248,800 G | Post-Game |
| Head Armor | Stock | Price | Availability |
| --- | --- | --- | --- |
| White Cap | 2 | 4,230 G | Stage 2 |
| Clerical Cap | 1 | 53,000 G | Stage 6 |
| Circlet | 1 | 14,200 G | Stage 2 |
| Leather Circlet | 1 | 12,900 G | Stage 3 |
| Laurel Circlet | 1 | 263,500 G | Post-Game |
| Faerie Hood | 2 | 1,310 G | Stage 2 |
| Verdant Hood | 1 | 3,480 G | Stage 2 |
| Twilight Hood | 1 | 24,400 G | Stage 3 |
| Crowned Hood | 1 | 48,200 G | Stage 6 |
| Autumn Hood | 1 | 129,800 G | Post-Game |
| Summery Cowl | 1 | 43,300 G | Silver Idol or better |
| Sultry Cowl | 1 | 352,000 G | Gold Idol |
| Torso Armor | Stock | Price | Availability |
| --- | --- | --- | --- |
| Chestguard | 2 | 3,340 G | Stage 2 |
| Weak Guard | 1 | 39,100 G | Stage 4 |
| Padded Armor | 1 | 15,600 G | Stage 3 |
| Flutter Padding | 1 | 43,000 G | Stage 4 |
| Rex Lion Padding | 1 | 79,700 G | Stage 6 |
| Animistic Robe | 1 | 84,400 G | Stage 6 |
| Crimson Robe | 1 | 188,900 G | Post-Game |
| Frame Plate | 1 | 33,000 G | Bronze Idol or better |
| Maiden's Petticoat | 1 | 61,600 G | Bronze Idol or better |
| Summery Pareo | 1 | 73,600 G | Silver Idol or better |
| Sultry Pareo | 1 | 468,200 G | Gold Idol |
| Novice's Coat | 1 | 9,250 G | DA content |
| Leg Armor | Stock | Price | Availability |
| --- | --- | --- | --- |
| Dusk Shoes | 1 | 3,460 G | Stage 2 |
| Gloaming Shoes | 1 | 24,680 G | Stage 4 |
| Over-Knee Boots | 2 | 7,460 G | Stage 3 |
| Fine Over-Knee Boots | 2 | 24,080 G | Stage 3 |
| Red Over-Knee Boots | 1 | 48,680 G | Stage 6 |
| Dark Over-Knee Boots | 1 | 122,800 G | Post-Game |
| Blue Longkilt | 1 | 4,160 G | Stage 2 |
| Red Longkilt | 1 | 26,460 G | Stage 4 |
| Purple Longkilt | 1 | 130,200 G | Post-Game |
| Raptor Cuisses | 1 | 36,880 G | Silver Idol or better |
| Flame Skirt | 1 | 288,600 G | Gold Idol |
| Jewelry | Stock | Price | Availability |
| --- | --- | --- | --- |
| Baleful Nails | 1 | 2,400 G | Stage 1 |
| Barbed Nails | 1 | 7,800 G | Bronze Idol or better |
| Ring of Gules | 1 | 40,000 G | Stage 3 |
| Ring of Azure | 1 | 40,000 G | Stage 3 |
| Ring of Purpure | 1 | 40,000 G | Stage 3 |
| Ring of Sable | 1 | 60,000 G | Bronze Idol or better |
| Ring of Argent | 1 | 60,000 G | Silver Idol or better |
| Ring of Ruby | 1 | 120,000 G | Gold Idol |
| Rose Ring | 1 | 30,000 G | Stage 2 |
| Iris Ring | 1 | 30,000 G | Stage 3 |
| Violet Ring | 1 | 30,000 G | Stage 3 |
| Restless Earring | 1 | 56,000 G | Stage 2 |
| Cleansing Earring | 1 | 56,000 G | Stage 3 |
| Nimble Earring | 1 | 56,000 G | Stage 4 |
| Free-Spoken Earring | 1 | 56,000 G | Stage 6 |
Notes