Lupine Veil is armor available in Dragon's Dogma.
Description
"Beastly head protection fashioned from the pelt of a wolf."
A potential piece of Barbarian Armor Sets.
Usable By
Stats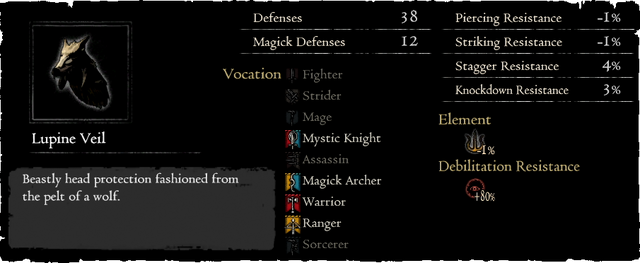 Location
Enhancement Item Locations
Notes:
The base add to strength is an additional +3, which can be increased if strength-multiplying augments are equipped on the character, such as Clout, Vehemence, Bloodlust, Ferocity, Exhilaration, Opportunism and/or Autonomy. Note that some of these augment effects are conditional depending on the Arisen's environment and state of health or even the selected skill. These augment effects can also differ depending on whether Dragon's Dogma or the Dark Arisen version of the game is being played.
Community content is available under
CC-BY-SA
unless otherwise noted.