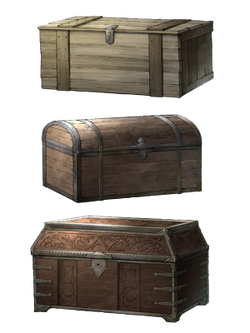 A List of Everfall Loot found in post-Dragon Everfall sorted by chamber.
Overview
Generally chests in the Everfall contain higher value curatives and other items such as Panacea, Sobering Wine, The Sundering Spear Tome, or a Jewel of Health, or items of similar value. Other commoner finds include Giant Coin Pouches, or Wakestone Shards.
Much rarer are weapons, equipment, and rings which require good luck or perseverance to find - in Dragon's Dogma most, but not all, were unique to the Everfall, and could not be got anywhere else. The vendors Delec and Joye sell a limited range of equipment only found in this place.
In Dark Arisen many of the items formerly only found in the Everfall can also be found within Bitterblack Isle - the known exceptions are the Grisly Greaves, Grisly Bracers; Holy Cuisses, Crimson Gauntlets, Crimson Sabatons, Shadow Greaves, and Dark Lorica.
List
Only rare items listed, for chest locations see the individual articles, or maps in the gallery
The chance to find unique equipment and armor is almost always 2%, some other items that can be bought from the peddlers in the Everfall or elsewhere are slightly more common at 5% or higher.
Notes
Loot probabilities from the chest in the Chamber of Confusion are probably much higher than the other chambers in the Everfall.
Gallery