Holy Armor Set is armor available in Dragon's Dogma.
Description
"The purest and finest of all armors."
Core Set Pieces
Accessories

The Holy Armor Set is a fine quality armor suitable for Magick Archers and Sorcerers - it is to the same design as the Raptor Armor Set but in pure white with a light aquamarine tint. All elements of the set continue the design pattern for magic archers of offensively orientated greaves, handless arm armor suitable for bow use, and a heavy overcoat as torso armor - the Jade Bangles and Gleaming Bangles are a good match though the gleaming ones are an order of magnitude better in defense.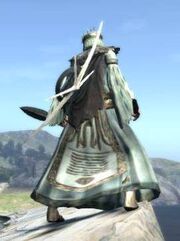 For an armor with such holy properties a holy enchanted magic bow would be suitable; however there are none - instead the Militant Dove is the perfect weapon for this set - it restores health to the wielder like as holy spells can do. Though holy enchanted daggers such as Heaven's Key may appear appropriate, it can be seen by inspection that the rare daggers Signs of Valor give a complete stylistic match.
Unlike the Raptor set the Holy set has no matching underclothes - luckily there are a number of good options which match its properties - the best choice is probably the underclothes of the White Hawk Armor Set - that is the White Hawk Tunic and White Hawk Leggings - these match in terms of protection as well as color and hue. An alternative is the Silver Chainmail Set - also with holy resistance; wearing these restricts use to magic archer only - they are heavy for such an armor.
Stats
Refers to the armor set with the inferior Jade bangles, and without the additional defense from underclothes
If the Jade bangles are replaced with Gleaming Bangles defence and magic defence increase by an approximate maximum of 20 and 30 respectively, whilst a very small amount of dark resistance is lost, and around one third of curse resistance - an additional faction of holy is gained, plus an increase of about a third in resistance to lowered magic defence, and a similar gain in resistance to lowered magic. The magick boost also increases by +2. The gleaming bangles weight about one half as much again as the jade.
Trivia
Curiously though the White Hawk Leggings and White Hawk Tunic are clearly part of an armor set (the White Hawk Set) with its own original conceptual origin (Berserk by Kentaro Miura) - they are a match for what is in effect a white version of the Raptor Armor Set -thus they are underclothes for two armors inspired by Birds of Prey, both in name and look.
Community content is available under
CC-BY-SA
unless otherwise noted.