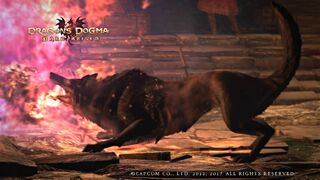 Hellhound is an Enemy in Dragon's Dogma.
Overview
Hellhounds are a larger, much more dangerous version of Wolves with black fur and far more health. They can be found throughout Gransys during Post-Game and on Bitterblack Isle.
Hellhounds spew fireballs, grab and drag knocked down characters a fair distance away, and use their maul attack to inflict large amounts of damage. When engulfed in flames, their bites cause additional Fire damage.
Stats
Attacks
Attack
Type
Description
Charge
Phys
Charges at a target, knocking them back.
Fireball
Mag
Shoots a fireball at a target, knocking them down with a chance of also causing burning. If the fireball hits the floor, it explodes causing area damage and knockdown. Hellhounds will use this as a ranged attack if their target is not on the same level of elevation as them.
Drag †
Phys
Grabs a target who has been knocked to the floor and drags them a fair distance away. Then bites the victim causing significant damage until the character is dead or freed. Sometimes they will drag their victim off a cliff.
Fire Shroud
Spec
Roars causing itself to be shrouded in flames.

Once inflamed, all of its attacks to deal fire damage as well as increasing the damage of the fireball attack. Grappling or carrying it in this state may cause burning.

Hellhounds can also become inflamed when hit with a fire-based attack.

Fire Roar
Spec
Once inflamed Hellhounds may roar again - those in close vicinity (~3m) of the roar may have Lowered Defense inflicted.
Bite †
Phys
Bites a character's leg and holds them in place, mauling them continuously until freed. Multiple Hellhounds can join in on this attack, dealing severe damage.
† Bites can very rarely inflict debilitations, such as Poison, Curse or Torpor.
Tactics
Offensive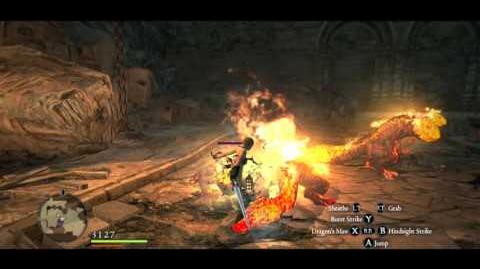 Class specific
Defensive
Hellhound fireballs and pounces have high chance of causing knockdown, which is usually followed up by the drag attack.
One way to avoid getting dragged by Hellhounds is to use Instant Reset whenever the Arisen gets hit or knocked down.
Hellhound lunges and fireballs can be easily blocked and perfect blocked.
Pawn Bestiary Knowledge
For full information, refer to the Bestiary page or the according section on the Wolf page.
Enemy specific:
In addition to witnessing these techniques, it is necessary for Pawns to participate in killing 150 Hellhounds either with their own Arisen or while travelling with others.
Pawn Chatter
" 'Tis nothing like the wolves we've seen!"
"A black beast... 'Tis strong, Arisen." (no Bestiary knowledge)
"There, Master! Hellhound!"
"Swathed in flames they're a greater threat!"
"Watchdogs of the infernal beyond..."
"A pack of hellhounds!"
"Beasts of flame, and strong..."
"Hellhounds, nearby!"
Notes
Despite being 'from hell' and weak to holy Hellhounds are not Undead and aren't damaged by holy spells like Anodyne, nor does the Magick Shield Zombiebane increase damage.
Gallery
Community content is available under
CC-BY-SA
unless otherwise noted.