Harpy Cloak is a cloak available in Dragon's Dogma.
Description
"A protective cape of harpy feathers. Mitigates the effect of dousing by water."
Usable By
Stats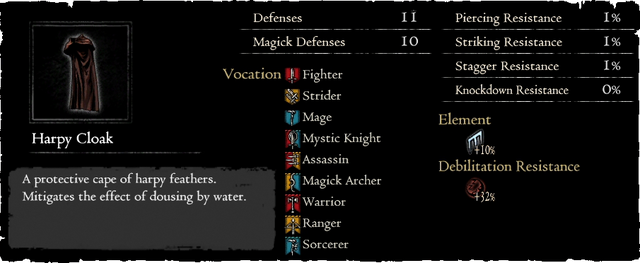 Location
Sold by :
May be found in a chest near the top of the Bluemoon Tower : From the tower summit, take the first few steps down the northern staircase and on looking down, the chest will be directly below.
Rare spawn in a chest in The Shadow Fort, to the left of the room where the Goblin leader is encountered. Also found in the chest near the goblin hole of the broken building where the prison cells are.  
May be gathered from a Weapon/Armor Pile in The Blighted Manse. On entering the sewers from the Manse side, cross the first large bridge and it's located in the next room entered.
Can be stolen from Harpy using Master Thief.
Can be stolen from Snow Harpy using Master Thief.
Enhancement Item Locations
Notes
Despite contrary belief, this item only mitigates (i.e., lessens) the Drenched debilitation. It does not completely negate the effect. Use Ring of Desiccation for quasi-immunity to being drenched in water.
Gallery
Community content is available under
CC-BY-SA
unless otherwise noted.