Greater Goblin is an Enemy in Dragon's Dogma: Dark Arisen.
Overview
Greater Goblins are a larger and more fearsome version of their lesser Goblin cousins. They can be found on Bitterblack Isle. Greater Goblins fight nearly naked, save for some leather wraps and bandings adorned with skull charms and teeth, and wear animal skulls as helmets. Greater Goblins wield large Morgenstern maces, and some make use of round shields.
They charge and jump into battle, and attack with a berserk fury that makes them a threat to even the wariest Arisen. Similar in appearance and behaviour to Grimgoblins, but with significantly increased staggering power and health points.
Type

Goblins

Experience
gained
Base Experience of 1,800

Can be more or less depending on a few factors such as:

Location

Items
Stats
Stats
Health
Attack
Defense
Magick
Attack
Magick
Defense
Weight
14,500
1,450
430
400
380
60
Relative
Damage
Taken
Slash
Bash

Fire

Ice

Thunder

Holy

Dark
100%
100%
100%
100%
110%
100%
50%
Sources: Dragon's Dogma - ドラゴンズドグマ & Dark Arisen (www10.atwiki.jp) and in-game testing.
Tactics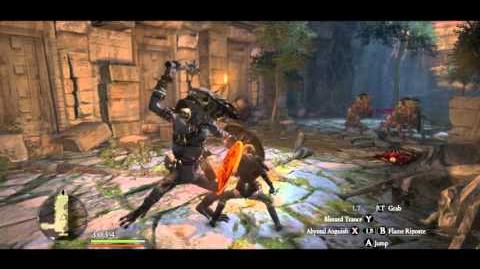 Weak against Lightning.
Resistant to Blind.
Beware the Greater Goblin's surprisingly powerful stomp attack. If knocked down, the Arisen may quickly be overwhelmed by multiple Greater Goblins joining in the stomp-fest.
Pawn Bestiary Knowledge
For full information, refer to the Bestiary page or the according section on the Goblin page. Enemy specific:
In addition to witnessing these techniques, it is necessary for Pawns to participate in killing 290 Greater Goblins either with their own Arisen or while traveling with others and a combined total of 390 Greater Goblins and Goblin Shamans.
Pawn Chatter
"A goblin of uncommon size, Arisen!" (no bestiary knowledge)
"A pack of greater goblins!"
Gallery
External Links
Community content is available under
CC-BY-SA
unless otherwise noted.