Gorecyclops
is an
Enemy
in
Dragon's Dogma: Dark Arisen
.
Overview
Gorecyclops are larger, pale versions of the Cyclops from Dragon's Dogma. They share similar characteristics to a Cyclops, but are more ferocious and stronger than their cousins. Their eye is always glowing red in combat, similarly to a berserk Cyclops. They fight with a spiked club or their bare fists, and can also pick up and throw objects such as Large Stones and Explosive Barrels at the party.
There are two versions of Gorecyclopes. The first one is the same size of a regular Cyclops; the second form is enormous, and is covered in spiked armor (see Condemned Gorecyclops).
Stats
Stats
Health
Attack
Defense
Magick
Attack
Magick
Defense
Weight
63000
2900
430
500
390
 ??
Relative
Damage
Taken
Slash
Bash

Fire

Ice

Thunder

Holy

Dark
100%
100%
60%
150%
60%
100%
100%
Sources: Dragon's Dogma - ドラゴンズドグマ & Dark Arisen (www10.atwiki.jp) and in-game testing.
Attacks
Gorecyclopes share all attacks with Cyclopes. Additionally regular Gorecyclopes may perform a unique slam and stomp attack routine.
Tactics
Offensive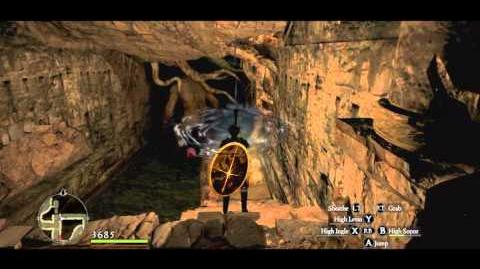 Weak against Ice enchanted weapons and spells.
Vulnerable to Sleep.
Vulnerable to Lowered Strength. Use the Dragon's Roost shield to reduce their physical attack.
Hitting the eye can stagger the Gorecyclops.
All vocations: Climb up the back and hack away.
Defensive
Avoid frontal assaults, since this may prompt him to use his grab attack.

After a successful grab attack, the creature may attempt to eat whomever it has grabbed. Doing so restores roughly one bar of health to the beast.
Pawn Bestiary Knowledge
For full information, refer to the Bestiary page or the according section on the Cyclops page.
Enemy specific:
In addition to witnessing these techniques, it is necessary for Pawns to participate in killing 50 Gorecyclopes either with their own Arisen or while travelling with others.
Remarks:
Gorecyclops and Condemned Gorecyclops are considered as the same enemy type, thus share the same characteristics (knowledge, kill-count), in a similar fashion as Cyclops and Armored Cyclops.
Notes
Gallery
External links
Community content is available under
CC-BY-SA
unless otherwise noted.