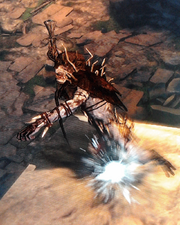 Goblin Shaman is an enemy in Dragon's Dogma: Dark Arisen.
Overview
Goblin Shamans can be found on Bitterblack Isle. They are the size of a small Grimgoblin or normal Goblin, and are spellcasters. Goblin Shamans wear a cape made of dark fur, a crown-like headgear and carry the staff Favored Flower.
Goblin Shamans are heavily resistant to magick, but have little physical defense.
Stats
Stats
Health
Attack
Defense
Magick
Attack
Magick
Defense
Weight
5,500
650
280
1,500
1,350
40
Relative
Damage
Taken
Slash
Bash

Fire

Ice

Thunder

Holy

Dark
100%
100%
50%
50%
50%
100%
40%
Sources: Dragon's Dogma - ドラゴンズドグマ & Dark Arisen (www10.atwiki.jp) and in-game testing.
Attacks
Attack
Type
Description
Spellscreen
Mag
Rattles its staff, kneels down and casts a spell that increases their Defenses.

Warning! Silencing it will not prevent it from casting this spell.

Levin
Mag
Smites the target from above with a tongue of lightning.
Frigor
Mag
Generates a giant spire of ice. Has the chance to freeze its target and may lift them off their feet into the air.
Fireballs
Mag
Casts a fire based spell which shoots three Ingle projectiles in a wedge pattern.
Stoning
Phys
Repeatedly casts stones at the target.
Tactics
Resistant to most magick elements, to Holy least of all.
Weak against physical attacks.
Knocking down a Shaman can be effective in reducing their defenses.
It may be easier/quicker to knock them down with a heavy attack, then grab and throw them off an edge or against a nearby wall.  
Pawn Bestiary Knowledge
For full information, refer to the Bestiary page or the corresponding section on the Goblin page.
Enemy specific:
May need to attack with Magick to witness Magick immunity
In addition to witnessing these techniques, it is necessary for Pawns to participate in killing 100 Goblin Shamans either with their own Arisen or while travelling with others and obtaining a combined kill count of 390 Goblin Shamans and Greater Goblins.
Pawn Chatter
" 'Tis nigh-immune to magick!"
"Magick ill serves against goblin shamans!"
"This goblin bears a staff."
Gallery
External Links
Community content is available under
CC-BY-SA
unless otherwise noted.