Gleaming Bangles is armor available in Dragon's Dogma.
Description
"Bracelets that glitter like gold. Adorned with a magickal jewel that grants the wearer extra protection."
An optional part of the Holy Armor Set or Berserkin Set.
Usable By
Stats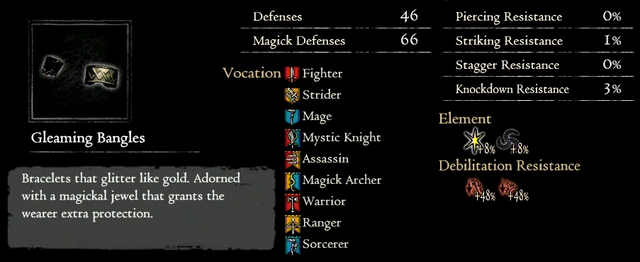 Location
Enhancement Item Locations
Notes
Prior to the release of Dark Arisen, Gleaming Bangles had the highest magickal stat add obtainable for arm armor. Only Trophy Bracers are superior in that regard.
The base add to magick is an additional +6, which can be increased if magick-multiplying augments are equipped on the character, such as Acuity, Attunement, Bloodlust, Ferocity, Equanimity, and/or Autonomy. Note that some of these augment effects are conditional depending on the Arisen's environment and state of health or even the selected skill. These augment effects can also differ depending on whether Dragon's Dogma or the Dark Arisen version of the game is being played.
Community content is available under
CC-BY-SA
unless otherwise noted.