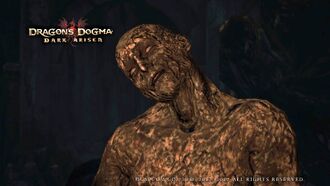 Giant Undead is an undead foe in Dragon's Dogma.
Overview
Giant Undead are bigger than even the Stout Undead and are much harder to kill than their lesser brethren. They are found in Gransys and the Everfall after slaying the Dragon even during the day. They are more common on Bitterblack Isle.
Near naked except for a loincloth and shackles - suggesting a former life as a condemned prisoner, they will use their massive size to crush opponents by charging at them, knocking over anyone in their path. They are also difficult to stagger, given their large size. Like all undead they resist Dark and have weakness to Fire and Holy damage.
Stats
Giant Undead take greatly reduced damage for body hits in normal stance compared to expected damage (from Damage Calculation) - generally two-fifths; for head shots this is doubled to four-fifths.
Attacks
| Attack | Type | Description |
| --- | --- | --- |
| Grab | Phys | Grabs a target and bites them repeatedly. Multiple Undead can join in on this attack, increasing the damage. |
| Shoulder Charge | Phys | Charges forward with its lead shoulder, using its huge mass to tackle characters. |
| Flail | Phys | Swings its arms about, lunging forward slightly for increased range. |
| Crawl | Phys | While prone, it may rapidly crawl forward and swipe at the feet of their opponents. |
Tactics
Vulnerable to Torpor.
Extremely flammable.
Despite their size, they can be grabbed and thrown. Melee vocations can also grapple them to lower their defenses for other allies to strike.
Giant Undead attacks are typically frontal oriented and easily dodged, so attacking them from the side and rear flanks (or at range with bows) should keep the Arisen out of harm's way.
Pawn Bestiary Knowledge
For full information, refer to the Bestiary page or the according section on the Undead page.
Enemy specific:
The scroll Undead Tactics Vol. 2 will grant knowledge for this enemy.
In addition to witnessing these techniques, it is necessary for Pawns to participate in killing 100 Giant Undead either with their own Arisen or while traveling with others.
Gallery
Community content is available under
CC-BY-SA
unless otherwise noted.