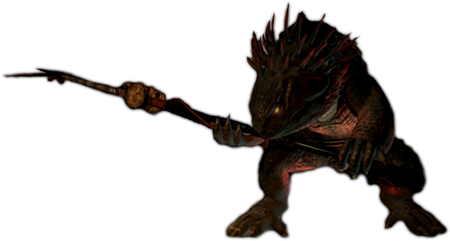 Giant Geo Saurian is an enemy in Dark Arisen.
Overview
Giant Geo Saurians are more powerful and larger versions of Geo Saurians that can be found on Bitterblack Isle. Like the regular versions, they don't cloak as much as Sulfur Saurians do, but they are much tougher to compensate. They can spew a substance that causes Burning if hit.
Stats
Stats
Health
Attack
Defense
Magick
Attack
Magick
Defense
Weight
22,000
2,400
780
500
260
 ??
Relative
Damage
Taken
Slash
Bash

Fire

Ice

Thunder

Holy

Dark
70%
120%
30%
300%
100%
100%
100%
Sources: Dragon's Dogma - ドラゴンズドグマ & Dark Arisen (www10.atwiki.jp) and in-game testing.
Attacks
| Attack | Type | Description |
| --- | --- | --- |
| Spear Slash | Phys | Slashes its spear at a target in front of it. |
| Tail Whip | Phys | Whacks targets attacking its tail. Causes knock back. |
| Spit | Mag/Status | Spits a ball of fire at a target. May cause Burning. |
| Jumping Attack | Phys | Jumps at a target and lands on them. |
| Jumping Spear | Phys | Leaps at a target and stabs them with the spear. Knocks the target away and down. |
| Spear Toss | Phys | Tosses its spear at the target as a last resort. Afterwards, the Saurian will flee. |
| Hit and Run Bite | Phys | When its tail is removed it will slither up to a target and bite them in the legs and then run away. |
| Invisibility | Spec | Saurians are able to turn themselves near invisible for ambush or regular attacks. |
| Guard | Spec | Holds up its spear in a defensive stance and blocks all frontal and side attacks. However, the tail is not protected, and the guard may be broken by strong attacks. |
| Counter Attack | Phys | If guard is not broken when attacking, it will retaliate with a spear attack that knocks its target down. |
Tactics
Community content is available under
CC-BY-SA
unless otherwise noted.