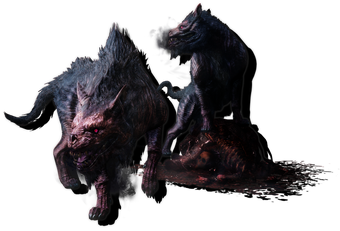 Garm
 is an
Enemy
in
Dragon's Dogma: Dark Arisen
.
Overview
Garm are huge, muscular, wolf-like quadrupedal beasts that can be encountered on Bitterblack Isle in packs of two or three, or as solitary individuals.
Garm are necrophagous creatures; the stench of death and rotting corpses attracts them. Their appearances are not entirely random as the Arisen can influence the spawn rate of Garm, however, the more death within Bitterblack Isle, the more likely one or more of these creatures will spawn. Prior to noticing the party, Garm will be rending and eating the corpses of the slain.
They can be lured with Rancid Bait Meat.
Stats
Stats
Health
Attack
Defense
Magick
Attack
Magick
Defense
Weight
75,000
3,900
830
1,800
770
 ??
Relative
Damage
Taken
Slash
Bash

Fire

Ice

Thunder

Holy

Dark
100%
70%
70%
70%
150%
125%
20%
Sources: Dragon's Dogma - ドラゴンズドグマ & Dark Arisen (www10.atwiki.jp) and in-game testing.
Attacks
| Attack | Type | Description |
| --- | --- | --- |
| Bite | Phys | Basic, fast bite common to all wolf type enemies. |
| Blinding Mist | Spec | Exhales a black mist causing damage and Blindness. |
| Ram and Toss | Phys | Using a two hit attack, the Garm rams its head into its foe and then launches them up into the air, causing Fall Damage. |
| Grab and Drag | Phys | Grabs a target who has been knocked to the floor and drags them a fair distance away, dealing constant damage. Then it will maul and exhale Blinding Mist until freed (wiggle L-stick). Other Garm can join in on this attack, increasing damage and the likelihood of death. |
| Last Breath | Phys/Spec | Upon death, the Garm will let out a final Blinding Mist dealing damage and causing Blindness. |
Tactics
Defensive
Garm cannot attack targets perched above them.
At close distance Garm spew a toxic cloud which can cause Blindness. When the Garm lifts its head up and stands still, it is preparing to spew. The lingering cloud can blind the party even after the Garm is killed.
Garm will try to get rid of their attacker by shaking and rolling on the ground when being climbed.
Use Instant Reset and Controlled Fall to avoid being knocked down and grabbed.
Avoid fighting packs of Garms without party to support you.
Pawn Bestiary Knowledge
For full information, refer to the Bestiary, or the according section on the Wolf page.
Enemy specific:
Weak to Lightning.
Getting hit by their mist breath and becoming blinded will grant knowledge.
Causing them to Sleep may grant knowledge.
In addition to witnessing these techniques, it may be necessary for Pawns to participate in killing 100 Garm and to obtain a combined kill count with Wargs of 300, either with their own Arisen or while travelling with others.
Pawn Chatter
"An enormous wolf!" (no Bestiary knowledge)
"Garm! Stand ready!"
"There, Arisen. Garm at their feed."
"Shield your eyes! They spew a blinding fog!"
"Mind that breath!"
"They are many, Arisen!"
Notes
Trivia
In Norse mythology, Garmr or Garm is a dog associated with Ragnarök, and described as a blood-stained watchdog that guards Hel's gate (see Wikipedia: Garmr).
Garm is also the name of the dog in Farmer Giles of Ham by J.R.R. Tolkien.
Gallery
External Links
Community content is available under
CC-BY-SA
unless otherwise noted.