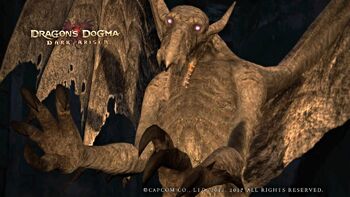 Gargoyle is an Enemy in Dragon's Dogma.
Overview
Gargoyles are a dangerous species of grey, winged creatures rarely found on Bitterblack Isle and in Gransys during Post-Game. Their bodies are hard as stone and most resistant to physical attacks.
They attack by grabbing and stabbing their prey with their tail, with the chance to cause Petrification which leads to death if not immediately treated.
Stats
Attacks
| Attack | Type | Description |
| --- | --- | --- |
| Dive | Phys | Dives at its target from the sky. |
| Grab and Impale | Phys/Status | Will grab and then stab its target with its tail, which may cause Petrification if not cured. |
Tactics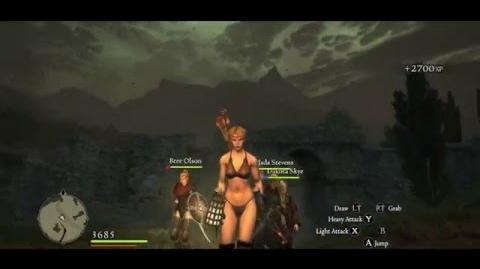 Immune to Blindness, Sleep and Petrification.
Strong against Dark based spells. High Maelstrom will inflict limited damage.
Use a ranged attack to knock one out of the sky.
Blunt weapons seem to be the most effective physical means of inflicting damage.
If their grab attack will miss, creatures will immediately land to rest for a while and can be safely grabbed.
Once grounded, they can be held down.
Be very careful when fighting multiple Gargoyles at once, since they can work in tandem and might effectively juggle anyone they strike if they attack one after the other, knocking the unfortunate Arisen or pawn up a little bit higher.
Vocation-specific
Pawn Bestiary Knowledge
For full information, refer to the Bestiary page or the according section on the Harpy page.
Enemy specific:
In addition to witnessing these techniques, it is necessary for Pawns to participate in killing 50 Gargoyles either with their own Arisen or while travelling with others.
Pawn Chatter
"Their tail can turn a man to stone."
"A team of gargoyles!"
"Have we a remedy for petrification?"
"Their skin looks hard as stone!"
Gallery
Community content is available under
CC-BY-SA
unless otherwise noted.