Engrave is a skill available in Dragon's Dogma.
Description
"A broad-ranged flurry of dagger blows, punctuated with a fierce kick."
An advanced version of Carve, which follows up the initial attack with a series of kicks.
Notes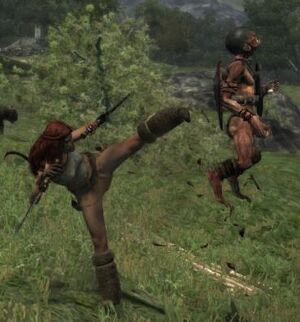 Press [Light Attack], -pause-, [Light attack] repeatedly to perform.
The follow-up attacks (kicks) turn the strength of the Arisen's daggers into blunt damage, but they don't apply the weapon's potential enchantment damage. Therefore, it is sometimes better to use Carve instead of Engrave.
Useful against Skeletons, Metal Golem discs, and for breaking shield guards.
Gallery
Community content is available under
CC-BY-SA
unless otherwise noted.