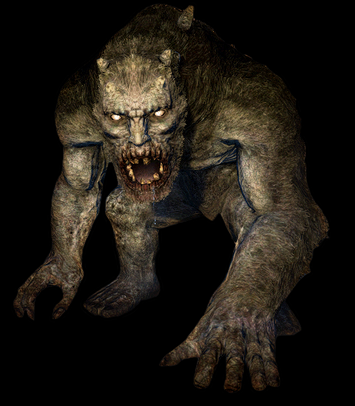 Elder Ogre is an Enemy in Dragon's Dogma: Dark Arisen.
Overview
Though the name may imply a weaker or more fragile Ogre, this is not the case. The Elder Ogres are much more powerful and robust than regular Ogres. Unlike their younger cousins, Elder Ogres get excited when they see men, so male Arisen and pawns should be wary. 
As carrion-eaters, Elder Ogres are attracted to the presence of corpses and can appear randomly when monster offal lies on the ground. Additionally they can be reliably lured with Rancid Bait Meat in certain locations.
Stats
Stats
Health
Attack
Defense
Magick
Attack
Magick
Defense
Weight
94000
2100
980
500
530
 ??
Relative
Damage
Taken
Slash
Bash

Fire

Ice

Thunder

Holy

Dark
80%
80%
60%
60%
100%
40%
80%
Sources: Dragon's Dogma - ドラゴンズドグマ & Dark Arisen (www10.atwiki.jp) and in-game testing.
Tactics
Offensive
Vulnerable to Torpor, Poison, Tarred, and Lowered Strength such as inflicted by the Dragon's Roost shield.
Can be put to Sleep..
The head is a weak point and should be targeted by climbing, ranged attacks and/or spells.

For combat advice whilst climbing, see climbing.

Equipping items and augments such as Barbed Nails or Emphasis will increase the chances of knockdown.
Elder Ogres possess a high tolerance for physical damage, so make sure the party has enchanted weapons or enchantment spells.

Melee vocations may need to employ their strongest attacks, or focus on staggering and knocking down the brute.
Defensive
If climbing the monster and it reaches up to grab the Arisen, Instant Reset can be used as an emergency dismount to avoid being grabbed and eaten.
Inflicting it with Torpor reduces the creatures potential, more so when it chooses to rampage.
Elder Ogres can squeeze through doorways (sometimes straight through solid walls) that are 1/3 of their size, even in areas the Arisen may think are safe and out of the monster's reach.
The Elder Ogre may snatch up a party member and run off to attempt to eat them, like the normal Ogre, but if it bites into a female pawn or Arisen it will stagger and fall down, clutching its throat as if poisoned. This allows the party to inflict more damage while it is staggered, though the bite can slightly heal the Elder Ogre.
As Elder Ogres prefer to attack males, a male Arisen can lure the Elder Ogre away from spellcasters or even off ledges, such as the bridge in the Fortress of Remembrance.
Class specific
Pawn Bestiary Knowledge
For full information, refer to the Bestiary page or the according section on the Ogre page.
Enemy specific:
Weak to Lightning
Having a Male in the party gets the Elder Ogre excited, making its cheeks and buttocks flush red. It then targets and chases that Male without paying any attention to other party members.
In addition to witnessing these techniques, it is necessary for Pawns to participate in killing 50 Elder Ogres either with their own Arisen or while travelling with others.
Pawn Chatter
"An ogre? ...Hmm, but 'tis different." (no bestiary knowledge)
" 'Tis more brutish still than a normal ogre!"
"Seems the beast hungers for men!"
"They attack men with especial zeal!"
"It grows frenzied!"
"Elder ogres bow to lightning's kiss!"
"'Tis become swifter?!"
Notes
Gallery
Community content is available under
CC-BY-SA
unless otherwise noted.