Dread Aspis is a weapon available in Dragon's Dogma: Dark Arisen.
Description
"A shield whose scaly exterior was shaped by pure malice. It's said to channel the fears of whoever wields it into a wild sense of empowerment."
Notes
This is the most powerful (physical based damage) shield in the entire game, usable by both Fighters and Assassins.
All Bitterblack Weapon Lv.3's have a minimum level requirements of level 51. Until the level requirement is met, using even basic core attacks, weapon skills and sprinting will consume unusually large amounts of stamina. In addition, stamina will replenish at a much slower rate. Simply having a Dread Aspis EQUIPPED while the Arisen uses other level appropriate weapons and armor will consume considerable stamina.
Usable By
Stats
Upgrade
Level
0

1

2

3

Upgrade
Requirements
N/A
93,000 G
260,400 G
Rubicite x2
744,000 G
Violet Carapace x2
Click here for
requirements
7,600 RC
Fae-Silver Plate x3
15,600 RC
Daimon's Horn x2
Strength
540
548
563
598
651
755
966
Magick
0
0
0
0
0
0
0
Slash Strength
0%
Bludgeoning Strength
100%
Stagger Power
430
430
438
477
533
555
642
Knockdown Power
430
430
438
477
533
555
642
Element
-
Debilitations
-
-
-
-
-
-
-
Weight
2.05
2.05
1.95
1.74
1.54
1.54
1.54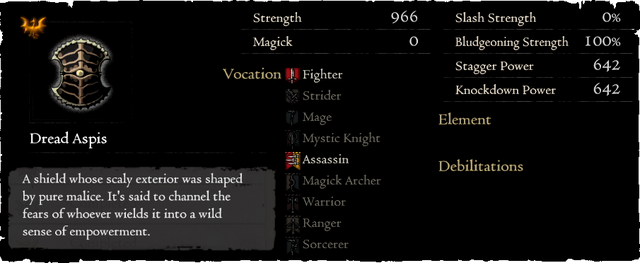 Location
Enhancement Item Locations
Trivia