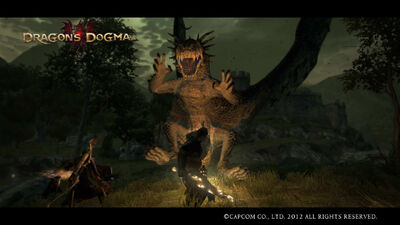 Dragon Roar is a special skill unique to all Dragons, lesser and greater.
Description
All Dragons have a powerful roar attack which may inflict Skill Stifling on the Arisen and instantly renders unconscious all Pawns within range.
Destroying the horns (Dragon Horn) or wings (Great Dragon Alula) causes Dragonkin to rear up and roar. Once the both horns and wings are destroyed a Dragon will still periodically roar. Additionally the longer the foe receives damage without inflicting any, the higher the chance that it will roar. (verify)
The roar has a limited, yet long and wide, range so will always affect any Pawns in sight. Party members behind the Dragon may be unaffected.
The Cursed Dragon's roar is different in that it inflicts Possession on pawns.
Notes and tactics
Pawn specific
Community content is available under
CC-BY-SA
unless otherwise noted.