Dragon's Repast is a weapon available in Dragon's Dogma.
Description
"An exquisite hammer worthy of its namesake. Even to touch it sets power coursing through one's veins."
This warhammer is one of the twelve Dragon Weapons obtained upon defeating Grigori in The Final Battle if a warhammer was equipped at the moment of defeat.
Usable By
Stats
Values in parenthesis are changes in Dark Arisen.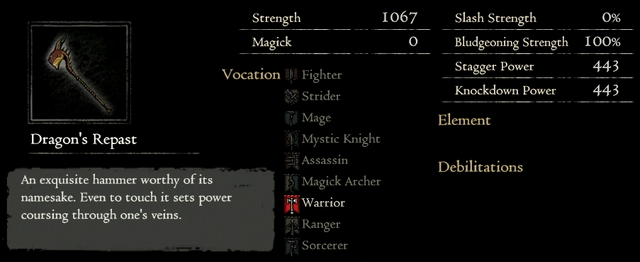 Location
Enhancement Item Locations
Notes
Has a Weapon Level Requirement of 28.
In Dark Arisen, this is the most powerful (physical damage) warhammer that can be gifted to another Pawn.
Gallery
Community content is available under
CC-BY-SA
unless otherwise noted.