Dominion Claw is a weapon available in Dragon's Dogma: Dark Arisen.
Description
"A staff adorned with a crimson claw at its tip, said to amplify any sadistic tendencies lurking within its wielder."
Notes
This is the highest magic damage staff available to Mages in the entire game. Also usable by Mystic Knights and Magick Archers.
All Bitterblack Weapon Lv.3s have a minimum level requirements of level 51. Until the level requirement is met, using even basic core attacks, weapon skills and sprinting will consume unusually large amounts of stamina. In addition, stamina will replenish at a much slower rate. Simply having a Dominion Claw EQUIPPED while the Mage, Mystic Knight or Magick Archer wears level-appropriate armor and other level-appropriate weapons will consume considerable stamina when moving.
Usable By
Stats
Upgrade
Level
0

1

2

3

Upgrade
Requirements
N/A
98,000 G
274,600 G
Macabre Eye x2
784,000 G
Netherstone x2
Click here for
requirements
8,000 RC
Bloodred Crystal x2
16,000 RC
Bone Lantern
Strength
280
284
292
307
343
371
429
Magick
970
1018
1076
1216
1332
1407
1515
Slash Strength
0%
Bludgeoning Strength
100%
Stagger Power
340
340
346
377
421
455
513
Knockdown Power
340
340
346
377
421
455
513
Element
-
Debilitations
-
-
-
-
-
-
-
Weight
1.29
1.29
1.23
1.10
0.97
0.97
0.97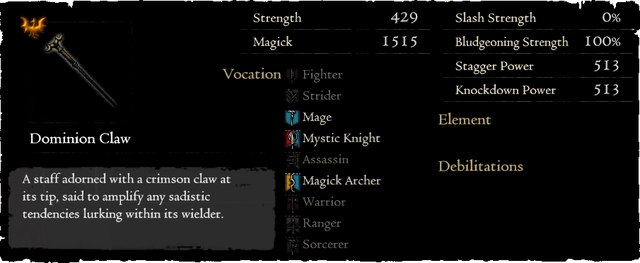 Location
Enhancement Item Locations