Divine Surcoat is armor available in Dragon's Dogma.
Description
"A surcoat worn by crusading holy warriors, blessed with the prayers of the Faith."
Usable By
Stats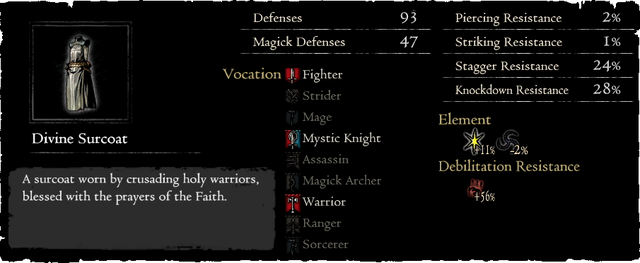 Location
Enhancement Item Locations
Notes
This is the armor that Savan wears.
The symbolism on the coat can be assumed to be that of The Faith - a monotheist religion. In some respects it is similar to Christian iconography (cross and halo) - it also resembles in abstract form the passage from the world to the rift encountered during the quest Final Judgment, with the circle at the head of the "T" in the tabard representing the light of the Seneschal themselves.. Thus Savan's surcoat becomes not only a symbol of the faith, but also his own personal 'coat of arms'.
Historically there are two forms of surcoat - one is an over tabard, which often carried the livery or colors of a knight, worn over armor - the other was a more substantial outer garment including defensive elements (a 'coat of plates)- this surcoat appears more like the former. See also Wikipedia:Surcoat and Wikipedia:Coat of Plates.
Gallery
Community content is available under
CC-BY-SA
unless otherwise noted.