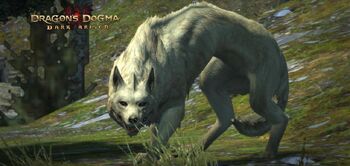 Direwolf is an Enemy in Dragon's Dogma.
Overview
Direwolves are a white, stronger, and more vicious version of the Wolf, commonly seen roaming around in the colder northern parts of Gransys. They are susceptible to Fire and highly resistant to Ice based attacks.
Direwolves are not only stronger, but smarter too. They hunt in packs often lead by a single larger alpha individual, and attack using guerilla tactics if outmatched. Very occasionally, a Direwolf bite can inflict serious debilitations, including Petrification, or Curse.
Stats
Attacks
Attack
Type
Notes
Leap Attack
Phys
Pounces its target.
Bite
Phys
May inflict debilitations including Petrification or Curse very rarely
Grab and Bite
Phys
Bites a character's leg and holds them in place, mauling them continuously until freed.

If the victim was knocked down multiple Direwolves can join in on this attack.
Tactics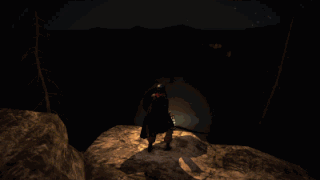 Weak against Fire enchanted weapons and spells.

A Direwolf caught on fire will roll on the ground to quickly douse the flames.

Fighters, Assassins, Mystic Knights: Burst Strike will impale fast moving enemies like Direwolves.
Striders, Rangers, Assassins, Magick Archers: Cutting Wind will close the distance against fast moving Direwolves.
Striders: Ensnare/Implicate can be an effective way of easily bringing the Direwolf down, leaving it vulnerable to melee attacks.
Just as pawns say Direwolves do literally "hunt in packs" - that is - they will often target a single party member as a pack and ignore others
Pawn Bestiary Knowledge
For full information, refer to the Bestiary page or the according section on the Wolf page.
Enemy specific:
In addition to witnessing these techniques, it is necessary for Pawns to participate in killing 500 Direwolves either with their own Arisen or while travelling with others.
Pawn Chatter
"That's no mere wolf..."
"A white wolf... 'Twill will be red soon enough!"
"There, Master! Direwolves!"
" 'Tis larger than a wolf!"
" 'Tis more clever than a common wolf!"
" 'Tis more bloodthirsty than a wolf!"
"More of its kind are coming!"
"We're surrounded! Be careful!"
"A shield will halt their lunges!"
" 'Tis effective to knock them back."
"Watch for their lunges!"
"I send you back to the grave!" (WTF Capcom?)
Gallery
Community content is available under
CC-BY-SA
unless otherwise noted.