Demonswrath is a dark based skill available in Dragon's Dogma.
Description
"An advanced form of Demonspite that converts damage sustained while blocking into more powerful bolts of magick."
An advanced version of Demonspite, that lasts twice as long, charges faster, and produces dark criticals more often.
Notes, usage and tactics
| Spell | Duration |
| --- | --- |
| Demonspite | ~ 1.5 minutes |
| Demonswrath | ~ 3 minutes |
Demonspite and Demonswrath convert blocked attacks into a magickal charge on the shield, which can be released for a dark magick blast once fully charged.
Charge and discharge
This spell must be fully charged for it to have its proper effect, otherwise the spell is discharged quite weakly. After a few minutes an unreleased spell will disperse, losing all the stored power.
This spell seems unique in that, once cast, magick shields with innate elemental enchantments can utilize that element when perfect blocking - e.g. the Thunder Kite Shield can cause thundershock when enchanted with the shield spell.
When fully charged, the magick shield will swirl in darkness and make a loud whirling noise. Re-cast the spell again to discharge it.
Damage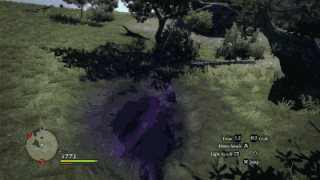 When activated, the Arisen will extend their arms to each side and release the spell. There spell discharge consists of several parts, in quick succession :
A small and weak magick shockwave powered only by the magick strength of the Magick Shield. If the shield has an enchantment the shockwave will be based on this element otherwise it is Neutral Magick (Temporary enchantments like Boons or Trances also change the element). Core magick does not contribute to this shockwave.
A cone of Dark energy shot forward with more reach and power, in a narrow cone. Both core and shield magick contribute strongly to this beam. This beam strikes multiple times in very quick succession until foes are dead or the spell is spent. The magick power scales strongly with total magick.
Finally a powerful dark magick shockwave with high knock back power. This blast strikes once, with very high base power and scales very strongly with total magick. Demonswrath has base power as half as strong again, and becomes even more powerful with higher magick.
The spell is purely magickal and has no physical component - it is well boosted by items such as Demon's Periapt. The power of the primary weapon (ie sword or mace) has no effect on damage.
Tactics
The overall range of effect is similar to the icy blast from High Frazil but narrower. Multiple enemies can be damaged by the spell. More specifically it will strike through large foes, hitting them multiple times.
Notes
Gallery
Community content is available under
CC-BY-SA
unless otherwise noted.