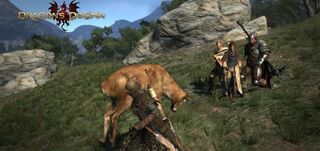 Deer are naturally occurring Fauna in Dragon's Dogma - the only species to be obviously sexually differentiated in the world of Gransys, excluding humans. Deer come in two forms: male Stags and female Does.
Description
Deer are four legged hoofed mammals, similar in weight to an adult man, and much lighter and more agile than an Ox. The males are slightly larger and have antlers. They are very skittish and will usually flee when someone approaches them. They have very low health and can usually be killed with little effort if using magic or a bow.
Notes
They occasionally drop 100 RC when slain by a person with the Fortune augment equipped.
Community content is available under
CC-BY-SA
unless otherwise noted.