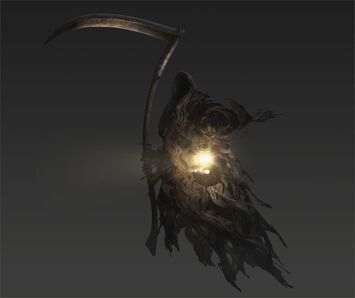 Death is an Enemy in Dragon's Dogma: Dark Arisen.
Overview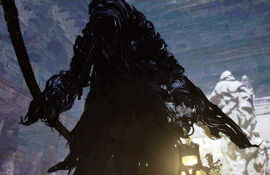 Death is a shadowy figure shrouded in black found on Bitterblack Isle. Larger than many creatures in the realm, he hovers ominously above the ground. Death's hood hides no facial features—instead, only a gaping black hole looks back at the Arisen. His deadly scythe, larger than his own body, will instantly kill even the mightiest adventurers. The Bone Lantern held in his left hand allows him to cast Sleep.
Death in the Dragon's Dogma universe shares many of the same features as the Grim Reaper in popular mythological depictions.
Stats
Health
Attack
Defense
Magick
Attack
Magick
Defense
Weight
660000
∞
666
∞
666
2,000
Relative
Damage
Taken
Slash
Bash

Fire

Ice

Thunder

Holy

Dark
100%
100%
60%
60%
60%
60%
0%
Sources: Dragon's Dogma - ドラゴンズドグマ & Dark Arisen (www10.atwiki.jp) and in-game testing.
Attacks
| Skill | Type | Description |
| --- | --- | --- |
| Teleport | Spec | Teleports from one point to another, generally to get closer to Arisen/Pawns. |
| Deep Sleep | Magick | Death waves his lantern as it glows purple which casts Sleep on nearby targets. |
| Shining Light | Spec | Death seeks out targets with a yellow light from his enchanted lantern. |
| Death's Scythe | Finisher | Death readies his scythe and after a fairly long buildup, makes a giant swipe with it. Anything hit, Arisen, pawn or monster will be slain. Pawns struck cannot be saved and will be sent back to the Rift. |
Behaviour
Death will flee when enough damage has been inflicted, or after a certain length of time fighting him.
Any damage inflicted on Death will carry over to every subsequent encounter until he is slain. As the physical manifestation of the cessation of life, Death cannot be permanently slain and will eventually reappear to resume his hunt for living prey.
In some areas, Death will disappear if the party simply exits and re-enters the dungeon. Death will also sometimes leave after slaying pawns or after a Wakestone is used.
Death's 'health' and 'death'
Death's kills
Tactics
Defensive
Lower level or unprepared parties will have little chance of harming Death on their first encounters - a valid option here is to run !
Prepare for Death's sleep spell. Either with resistant armor, clothing and rings, or with spells and curatives.
Death's scythe attack cannot be blocked with any shield or countered by any parry, including Masterful Kill or Clairvoyance. The scythe can only be avoided by evading it completely.

Autonomy augment can be useful as pawns are often slain by Death's scythe.
Wakestones can resurrect the Arisen, but Death's scythe will kill pawns instantly with no option for revival. Pawns will be immediately sent to the Rift and must be rehired.
Death floats above the ground and his incorporeal form cannot be grappled.
Beware of Death's ability to teleport - if Death disappears, he may well now be behind you.
Death will be strongly attracted to the light of any lantern. To avoid Death's attention, make sure no lanterns are lit.
During Scythe attack Death will home in on the target caught in the spotlight of its lantern. Rather than outright escaping from the scythe attacks it is more effective to evade the spotlight first.

There is a small blindspot just behind Death when he swings his scythe.
For lower level players looking to avoid Death, whilst he's at large, a low, ominous bell tolling will be heard as well as whispers the closer one gets to Death. Prepare to make a break for it when these sounds are heard.
Offensive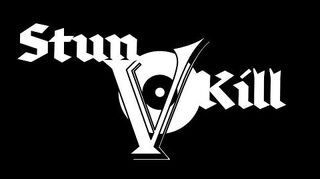 Vocation specific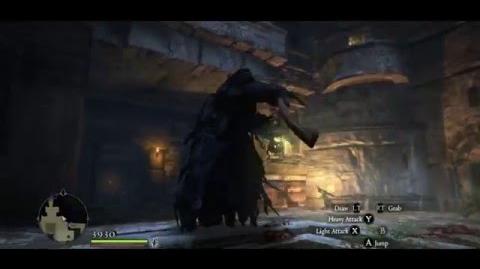 Death has high defense and high health, and appears only for a limited period of time - to dispatch Death, each vocation should preferably use their strongest attacks, coupled with enchantments and potions.
History
Death was once an Arisen. The notice board quests The Wages of Death I, II, III, and IV, were written by Death. In The Wages of Death IV, he states, "I have cast away the shackles of the Arisen. In form and function, I have embraced my calling... as death."
Speculation suggests that Death is the twisted form of Arthacos, an Arisen driven insane by loneliness and the unending labyrinth of Bitterblack Isle. In his insanity, Arthacos came to believe that it was his duty to offer one thousand human sacrifices to appease the Dragon's destructive nature and to save his country from calamity. He continues his vigil to this day.
Arthacos' accounts can be found in the form of ten epitaphs scattered through the isle, which when collected are displayed at the Monument of Remembrance. The tone and style of these epithets is similar to The Wages of Death I, II, III, and IV, which suggests that Arthacos and Death (who authored the Wages quests) are one and the same.
Pawn Bestiary Knowledge
Witness the scythe attack (no victim needed)
Witness Death inflicting Sleep
Witness Death bow and flee (may need to be seen a few times)
Teleportation :

Witness Death teleport in front of a character with a lantern equipped
Witness Death teleport in front of a character with no lantern equipped
Both may be needed to be witnessed several times
It may be necessary to equip/unequip the party's lanterns during the fight for the associated flags to be triggered.

Kill Death at least once with all five previous flags triggered
In addition to witnessing these techniques, it is necessary for Pawns to participate in killing Death 3, 6 or more times either with their own Arisen or while travelling with others.
More information can be found at the Bestiary page.
Pawn Chatter
"Death is come!"
"A reaper of souls?!"
"The reaper comes, Arisen!"
"There, a light... Someone's lamp, perhaps?"
"Hold fast, and drive this evil back!"
"The fiend's scythe brings certain death!"
"'Tis the end if its scythe finds you asleep!"
"When the lantern shines, fall back at once!"
"Its lantern's magick lulls men to sleep!"
"Seems it's gone..."
"Death will not be slain in one go, ser."
Quotes
Whilst casting the lantern sleep spell
"Sleep..."
Before a scythe swing.
"Come my child."
"Waver no more."
Notes
It has been claimed that Death's 'weak spot' is his lantern, particularly for stagger; however, others claim the lantern is actually unhittable, and hits to the lantern are actually passing through the body and hitting the torso. It is not known if any part of Death's body represents a true weak spot.(verify)
In Hard Mode, Death has considerably more stagger and knockdown resistance.

(BUG)

The very specific actions of Death being on uneven ground, while casting the lanterns sleep spell opens him up to a bug. If the Arisen sprints away to a distance that encourages Death to teleport and then stands still, it will result in Death being frozen in place, mid-cast indefinitely.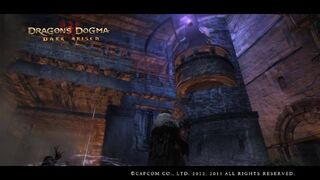 (Glitch)

ps3

,

xbox360

When Death spawns in the Garden of Ignominy, if the player walks onto the balcony, Death will try to attack the player but will get stuck on the way (where Snakes (Pre-Daimon) or Leapworms (Post-Daimon) spawn). If players stay away from the lantern light and have no light source of their own, Death will stay there and do nothing.
Videos
External links
Community content is available under
CC-BY-SA
unless otherwise noted.