Dalmatica is armor available in Dragon's Dogma.
Description
"A robe for those possessed of boundless devotion to the magickal arts. Useful, if rather heavy."
An element of the Raptor Armor Set.
Usable By
Stats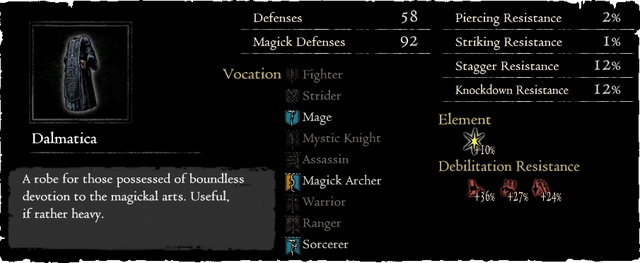 Locations
Sold by
Very rare drop from a wooden chest in the 'Second Level Underground' of The Catacombs, the room right before the tunnel leading to the Ogre.
May be found in a chest and gathered in the Ward of Regret.
Enhancement Item Locations
Trivia
Worn by Salomet.
The term Dalmatica ultimately derives from a sleeved tunic worn by an ancient people of the Dalmatian coast on the Adriatic sea in Europe. The dog breed Dalmatian also comes from the same region.
Historically, a Dalmatica was an ample sleeved striped tunic worn by women, later adopted for use by priestly castes. A Dalmatica is worn by kings and emperors at their coronation.
Gallery
Community content is available under
CC-BY-SA
unless otherwise noted.