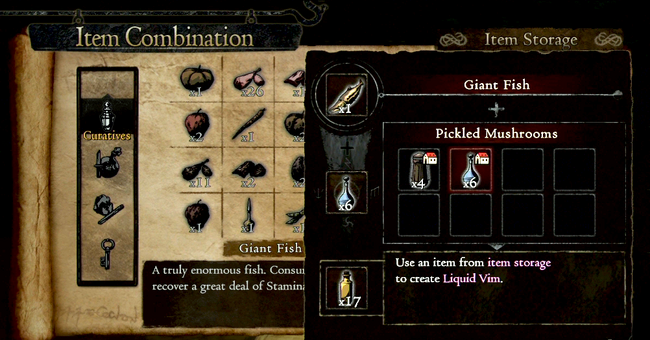 Combining is a process in Dragon's Dogma whereby two combinable items are fused to create one or more new items.
Overview
"Some items can be combined with others to produce surprising results. Experiment and see what you come up with."
–In-game message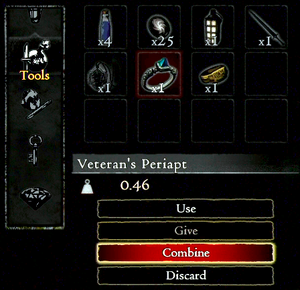 Many perishable organic items, naturally occurring ores, monster parts, and other oddities can be reacted in this way. Combining can also lead to the creation of mundane tools like pickaxes, arrows, one-use magickal scrolls, and potions both minor and major.
Usually one item of each kind is combined to create another, single new item. In the case of some thrown weapons and arrows multiple copies may be produced from combining. For example, Ember Crystal and Cassardite yield four Throwblasts.
One common form of combining is that with an Airtight Flask which produces a "kept" version of the item - almost all time sensitive items can be stored in a flask, which prevents them from decaying, whilst retaining most of the original properties. Kept items can usually be further combined with other reagents, and may have distinct combining properties of their own, such as reviving a kept rotten item with Spring Water.
Combining items can be done in two ways:
Combining of items held in the Arisen and pawn's inventory (Inventory Items Only)
Most of the items produced by combining can be purchased in shops, some more obscure items such as Headless Icons are not available anywhere for sale, and some such as Leaden Globes are unobtainable elsewhere.
Master Combining List
Achievements/Trophies

Community content is available under
CC-BY-SA
unless otherwise noted.