Chimeric Armor Set is armor available in Dragon's Dogma.
Description
"Metal armor that brings to mind the mighty chimera."
Core Set Piece
Accessory Pieces

The Chimeric Armor Set is a very heavy armor set usable by fighters, warriors and mystic knights.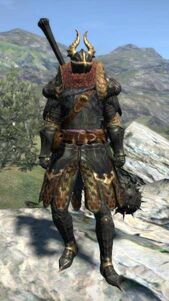 The full face and hand protection, low magick defense, and high weight suggest use by warrior vocations. Its resistances match those debilitations that might be inflicted by a Chimera.
A wide variety of weapons can be used with the set, though the Steel Urchin is a visual match - the urchin will tend to be outclassed before the armor is.
The Beastly Mantle complements the armor, softening the neck outline, whilst fitting within the shoulder pauldrons. Its resistances are a perfect match for the Chimeric set, and adds torpor resistance as well.
For undergarments the heavy Chain Mail Set is one choice, other semi armored undercloths can also be used - such as the Brigandine Jerkin.
Skeleton Lords use a variation of this armor, with a Knight's Honor shield and a unique sword similar to a Broadsword.
Stats
Location
Notes
Community content is available under
CC-BY-SA
unless otherwise noted.