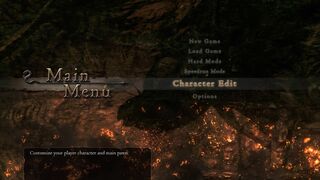 The Character Editor allows the sex, appearance, build, name and voice of the Arisen and their Main Pawn to be set.
Overview
The character editor is encountered twice during a normal playthrough of the main quest of Dragon's Dogma.
The Character Edit option becomes available from the main game menu once certain items have been obtained - these are :
Additionally the Arisen's and Pawn's hairstyle, make up, and voice can be altered in-game via Devyn's Barber Shop.
Parameters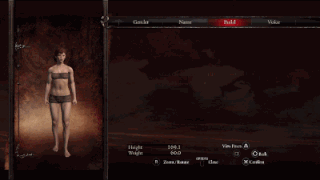 In addition to name, sex, and base body type multiple additional parameters may be set or tweaked, including head, body, leg, and arm shape and size; fine details of the face including the form and size of eyes, lips, nose, and ears; hairstyle, skin, hair, and eye color; and scars and make up can be added, as well as selecting age, which alters the appearance of the skin, from smooth to wrinkled.
The Arisen's or Pawn's name is also chosen (together with a 'family friendly' version), as well as the character's voice.
Additionally overall height, weight, muscularity, and stance can be set; female character's breast size can also be altered.
On the effects of different parameters :
Notes
Videos
Community content is available under
CC-BY-SA
unless otherwise noted.